'Ant-Man' Character Posters: Scott Lang Steps All Over His Friends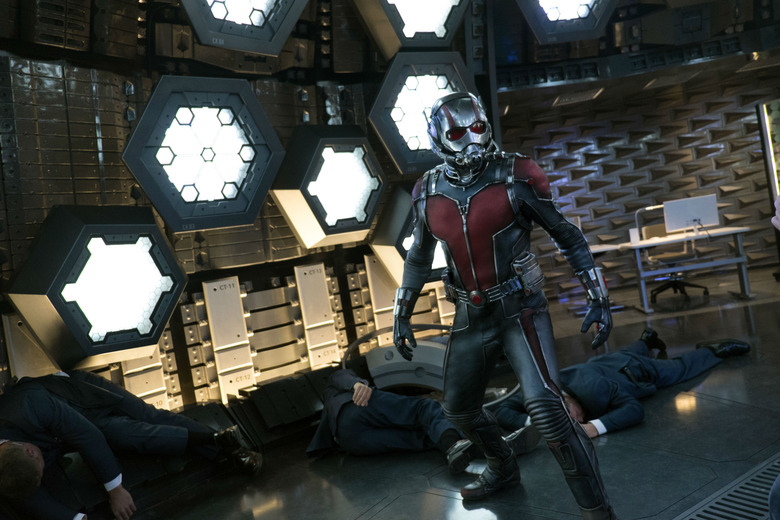 Marvel's big campaign for its tiny hero continues today with seven Ant-Man character posters. Paul Rudd, Michael Douglas, Evangeline Lilly, Corey Stoll, Michael Peña, T.I., and Bobby Cannavale take turns getting the Vaseline lens treatment, as Ant-Man remains the true star of the show. Check out the new Ant-Man character posters after the jump.
EW debuted the Ant-Man character posters and a brand-new TV spot. These poster come with a bit of new character info. Luis (Peña) is described as Scott's "partner in crime," and Dave (T.I.) is "another member of Scott's crew." Still not many details on Cannavale's Paxton, though.
This is a cute idea, awkwardly executed. T.I. and Peña's are reasonably convincing, even if Ant-Man is clearly Photoshopped in. But those are so clearly not Lilly or Stoll's hands, and the effect is kind of unsettling.
Anyway, here are two more posters from Marvel's international teams. The Japanese one has Cassie Lang considering her shrunken father, and the French one has a full-sized Scott Lang dealing with a miniature Yellowjacket.
Ant-Man crawls into theaters July 17.
The next evolution of the Marvel Cinematic Universe brings a founding member of The Avengers to the big screen for the first time with Marvel Studios' "Ant-Man." Armed with the astonishing ability to shrink in scale but increase in strength, master thief Scott Lang must embrace his inner hero and help his mentor, Dr. Hank Pym, protect the secret behind his spectacular Ant-Man suit from a new generation of towering threats. Against seemingly insurmountable obstacles, Pym and Lang must plan and pull off a heist that will save the world.
Marvel's "Ant-Man" stars Paul Rudd as Scott Lang aka Ant-Man, Evangeline Lilly as Hope Van Dyne, Corey Stoll as Darren Cross aka Yellowjacket, Bobby Cannavale as Paxton, Michael Peña as Luis, Tip "T.I." Harris as Dave, Wood Harris as Gale, Judy Greer as Maggie, David Dastmalchian as Kurt, and Michael Douglas as Dr. Hank Pym.
Peyton Reed directs Marvel's "Ant-Man" with Kevin Feige producing and Louis D'Esposito, Alan Fine, Victoria Alonso, Michael Grillo, Edgar Wright and Stan Lee serving as executive producers. The story is by Edgar Wright & Joe Cornish and the screenplay is by Edgar Wright & Joe Cornish and Adam McKay & Paul Rudd.