'London Has Fallen' First Look: Gerard Butler Fights Terrorists Across The Pond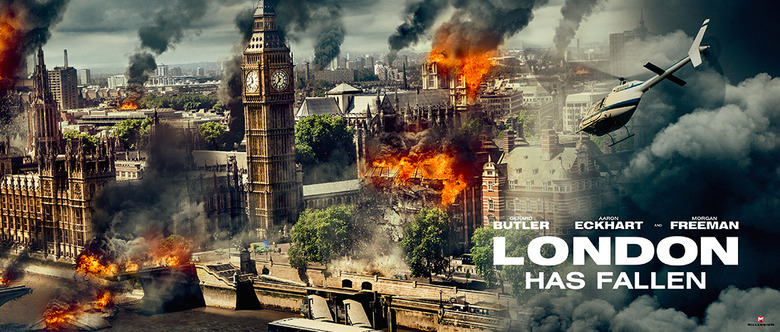 After narrowly escaping North Korean terrorists in Olympus Has Fallen, Secret Service agent Mike Banning (Gerard Butler) is back for more world-saving in London Has Fallen. He accompanies the President (Aaron Eckhart) to the funeral of the British Prime Minister, which becomes a target for bad guys who want to take out all the world leaders in one fell swoop. To stop the worst from happening, he must team with an MI6 agent (Charlotte Riley).
Focus Features recently moved London Has Fallen from fall 2015 to early 2016, and it's taking advantage of that extra time to get started on a marketing campaign. Get your London Has Fallen first look after the jump.
Empire debuted the London Has Fallen first look photo.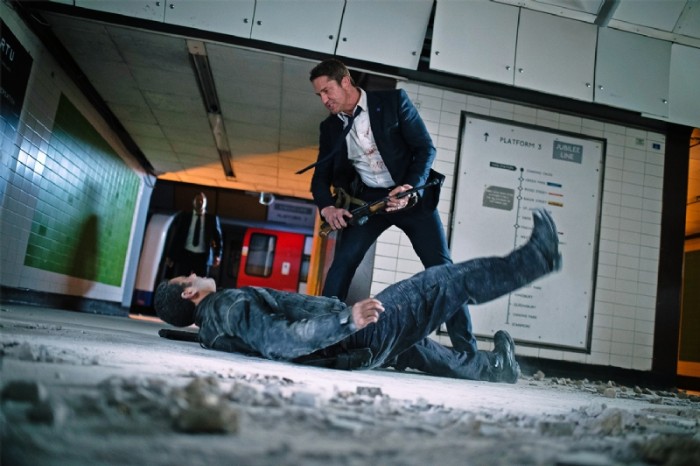 The scene above was shot on location in Charing Cross, which you might also recognize from Skyfall and Thor: The Dark World. Basically, if you're in London and want to increase your odds of running into a kickass agent and/or an actual god, that's where you go. "It's a fun franchise," Butler told Empire. "You get to do a lot of really badass action, but it's got its tongue firmly in cheek."
Babak Najafi takes over directing duties this time around, and Christian Gudegast, Creighton Rothenberger, and Katrin Benedikt wrote the script. Morgan Freeman, Angela Bassett, Radha Mitchell, Melissa Leo, and Robert Forster reprise their roles from the first film. Colin Salmon and Jackie Earle Haley join the cast as well.London Has Fallen opens January 22, 2016.
The sequel to the worldwide smash hit "Olympus Has Fallen," a non-stop, suspenseful action thriller that delivers high-octane excitement through a heightened sense of authenticity. The visceral intensity springs from a timely premise: after the British Prime Minister passes away, his funeral becomes a target of a terrorist organization to destroy some of the world's most powerful leaders, devastate the British capital, and unleash a terrifying vision of the future. The only hope of stopping it rests on the shoulders of the President of the United States (Aaron Eckhart) and his formidable Secret Service head (Gerard Butler), and an English MI-6 agent (Charlotte Riley) who rightly trusts no one. Morgan Freeman also stars as the Vice President of the United States.