Dwayne Johnson Joins Video Game Movie 'Rampage'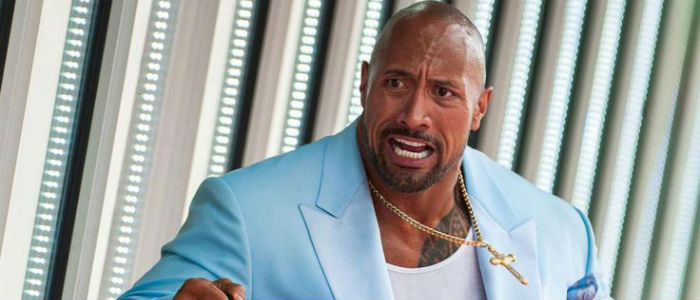 Having narrowly escaped the total destruction of California in San Andreas, Dwayne Johnson is now gearing up for another, very different kind of disaster pic. The Rock is set to star in Rampage, a live-action feature for New Line based on the '80s Midway Arcade game featuring three giant monsters. More on the Dwayne Johnson Rampage movie after the jump. 
Deadline reports Rampage already has a script by Ryan Engle (Non-Stop), and is now looking for a director. Beau Flynn (San Andreas) and Johnson are producing with Dany Garcia and John Rickard. Shooting is expected to begin in summer 2016, after Johnson wraps up Fast and Furious 8.
The movie's storyline is being kept under wraps for now. But the game centers on a middle-aged man, a young woman, and an old man who mutate into a gorilla, a lizard, and a werewolf, respectively. In their gigantic, mutated forms, they demolish cities across North America while fending off the military. Johnson will be one of the people fighting against these destructive beasts.
Rampage has been in the works for a few years already. Last we heard, the film was inspired less by the game's plot than by its visuals (and recognizable brand name). Tonally, it was said to be "in the vein of Ghostbusters and Independence Day."
The last part of that description might sound more exciting if we didn't have actual Ghostbusters and Independence Day movies coming up on the horizon. Not to mention this summer's Pixels, which could roughly be described the same way. Still, it doesn't sound like a bad combo, and that mix of adventure and humor seems to be right in Johnson's wheelhouse.
Johnson is in the middle of a big summer. He's already had two big-screen hits, Furious 7 and San Andreas, and he just debuted his new HBO comedy series Ballers. Currently he's shooting Central Intelligence, a New Line action-comedy with Kevin Hart. Also coming up for him are more Fast and Furious and Journey, a Big Trouble in Little China remake, the Disney animated pic Moana, and Warner Bros.' superhero movie Shazam.