Alicia Vikander In For 'Bourne 5', Out For 'Assassin's Creed'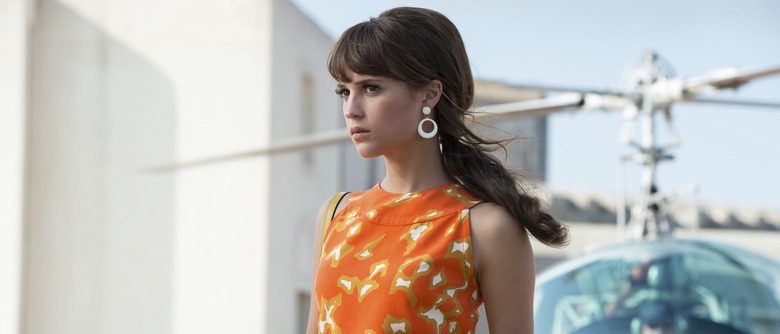 2015's most ubiquitous, most in-demand actress is making some tough decisions. Alicia Vikander has just been confirmed for Bourne 5, after
last month. However, this means she won't be starring in Assassin's Creed, which she was also eyeing at the time. Get all the details on the Alicia Vikander Bourne 5 and Assassin's Creed updates after the jump. 
reports Vikander is set for the next Bourne movie. Details on her character have not been revealed. Vikander joins returning stars Matt Damon and Julia Stiles. Viggo Mortensen has been
the villain role but hasn't signed on yet. Paul Greengrass is directing the action sequel for release on July 29, 2016.
Unfortunately, the Bourne shooting schedule precludes Vikander from also doing Assassin's Creed, so she's dropped out of talks for that one. The Justin Kurzel-directed video game adaptation would have reunited her with Michael Fassbender, who stars with her in Derek Cinafrance's upcoming The Light Between Oceans.
While Vikander wasn't a total unknown before this year — she'd attracted some attention for Anna Karenina and The Royal Affair among other roles – her 2015 slate cements her as one of Hollywood's hottest young stars. She's already appeared in Seventh Son, Ex Machina, and Testament of Youth this year and still has The Man From U.N.C.L.E., Adam Jones, The Danish Girl, Tulip Fever, and the aforementioned The Light Between Oceans due out in the next several months.
And it looks like she'll be sticking around in the spotlight for some time after that, as her name keeps popping up in the casting notices. Earlier this spring she was
Tom Hanks in James Ponsoldt's The Circle, but she had to drop out after the Bourne and Assassin's Creed offers came in. Emma Watson is now being courted to replace her in The Circle.