'Hitman: Agent 47' Trailer: A Popular Video Game Franchise Hits The Big Screen, Again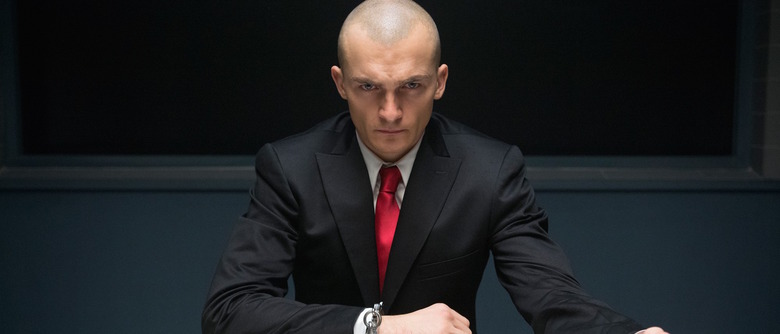 Fox has just revealed the latest trailer for Hitman: Agent 47, their second adaptation of the Hitman video game franchise. Rupert Friend plays as the titular 47, a genetically engineered assassin last seen shooting Don Draper out of a window. Zachary Quinto and Hannah Ware also star. Watch the latest Hitman Agent 47 trailer after the jump.
IGN debuted the new Hitman Agent 47 trailer.
This Hitman Agent 47 trailer reveals a lot more about the plot of the film than the last one did. Like just what Katia's role is in all of this. Turns out she's secretly a genetically engineered assassin, too. And if the evil corporation has its way, there'll be many more like them.
Hitman: Agent 47 is Fox's second attempt to start a Hitman franchise. Their last try was released in 2007 and starred Timothy Olyphant. (Who has apparently told Nerdist he only took the role to pay for his house.) Initially there were plans for a sequel, but at some point the studio decided to just reboot the damn thing instead. Paul Walker was originally slated to star. After he passed away, the role fell to Friend.
Directed by Aleksander Bach, Hitman: Agent 47 arrives August 21, 2015.
HITMAN: AGENT 47 centers on an elite assassin who was genetically engineered from conception to be the perfect killing machine, and is known only by the last two digits on the barcode tattooed on the back of his neck. He is the culmination of decades of research – and forty-six earlier Agent clones — endowing him with unprecedented strength, speed, stamina and intelligence. His latest target is a mega-corporation that plans to unlock the secret of Agent 47's past to create an army of killers whose powers surpass even his own. Teaming up with a young woman who may hold the secret to overcoming their powerful and clandestine enemies, 47 confronts stunning revelations about his own origins and squares off in an epic battle with his deadliest foe.