'Trainwreck' International Trailer: Amy Schumer Makes The Leap To The Big Screen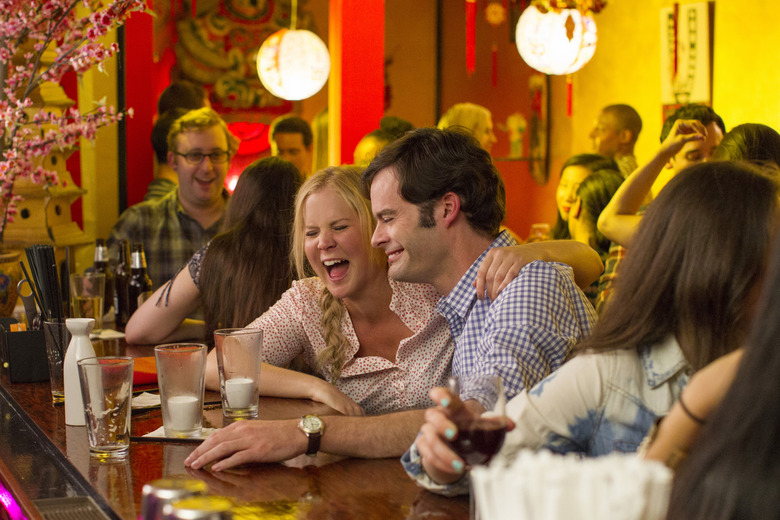 In the past couple of years, Amy Schumer has emerged as one of TV's brightest comic talents. Now she's poised to light up the big screen as well, with this summer's Trainwreck. The new comedy by Judd Apatow centers on a career woman / commitmentphobe who rethinks her no-strings credo when she meets a charming doctor played by Bill Hader. Watch the Trainwreck international trailer after the jump.
The new Trainwreck international trailer went up on YouTube.
Early buzz on Trainwreck is incredibly strong, and so far the film looks to be another win for "the summer Hollywood finally bet big on women." Of course, none of that is likely to come as a surprise to fans of Schumer, who's been knocking it out of the park with her Comedy Central show Inside Amy Schumer for three seasons and counting.
What may come as a surprise is LeBron James' performance as himself, or rather as a version of himself that serves as the requisite BFF to the male romantic lead. By all accounts, he's a scene-stealer. Which is really saying something considering how great this cast is. Supporting players include Tilda Swinton, Brie Larson, Mike Birbiglia, John Cena, Ezra Miller, Daniel Radcliffe, Colin Quinn, and Marisa Tomei.
Trainwreck arrives in theaters July 17, 2015.
Since she was a little girl, it's been drilled into Amy's (Schumer) head by her rascal of a dad (Colin Quinn) that monogamy isn't realistic. Now a magazine writer, Amy lives by that credo — enjoying what she feels is an uninhibited life free from stifling, boring romantic commitment — but in actuality, she's kind of in a rut. When she finds herself starting to fall for the subject of the new article she's writing, a charming and successful sports doctor named Aaron Conners (Bill Hader), Amy starts to wonder if other grown-ups, including this guy who really seems to like her, might be on to something.