'Paranormal Activity: The Ghost Dimension' Will End The Series; See The First Images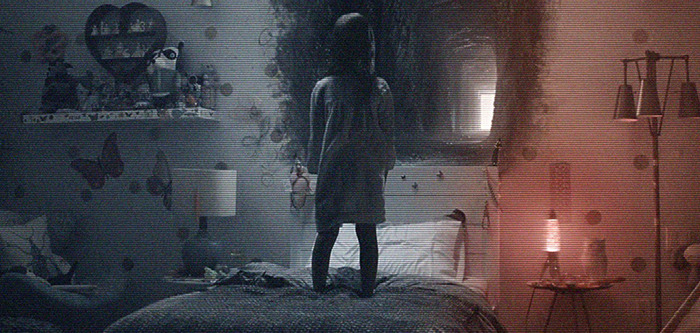 A new installment in the Paranormal Activity series opens this fall, and the first images from Paranormal Activity: The Ghost Dimension are now online. The film is called the "final installment" of the series, and promises to close the book on the story begun in 2009.
You read that right. This is, for now at least, the last Paranormal Activity film. "We made this movie like it's the end of this Paranormal line for sure," says Jason Blum. And that title promises quite a few revelations.
USA Today has the images, and quotes producer Jason Blum saying,
It's coming to an end. This is it, the finale. We're saying it before the movie opens. We're not going to grind this horror franchise into the ground. This will keep Paranormal Activity as part of this culture and this particular time in a really fantastic way... All the questions that everyone has asked from the past 'Paranormal Activity' films: What does Toby look like? What's the backstory to the families? These questions have been teased out. Now they will be answered.
Yeah, they're going to show Toby this time. Oh, and the film will be released with 3D used for parts of the movie, but not all. (See the synopsis below.)
Will this really be the last one? Plenty of other horror series have trotted out "final" chapters only to later continue with many more installments. (Friday the 13th: The Final Chapter effectively turned the concept of declaring an end into a joke. That was the fourth film, and six more followed, not counting a spin-off and reboot.) Blum is saying this is it. We'll see how long that holds.
Here are the images.
Paranormal Activity: The Ghost Dimension opens on October 23. Gregory Plotkin directed from a script by Adam Robitel and Gavin Heffernan.
Paranormal Activity: The Ghost Dimension centers on the Fleeges — father Ryan (Chris J. Murray), mother Emily (Brit Shaw) and their young daughter Leila (Ivy George) — who move into a house and discover a video camera and a box of tapes in the garage. When they look through the camera's lens, they begin to see the paranormal activity happening around them – including the re-emergence of young Kristi and Katie. The video camera footage will be presented in 3D in theaters.