See 'Mad Max' Anime Designs By Mahiro Maeda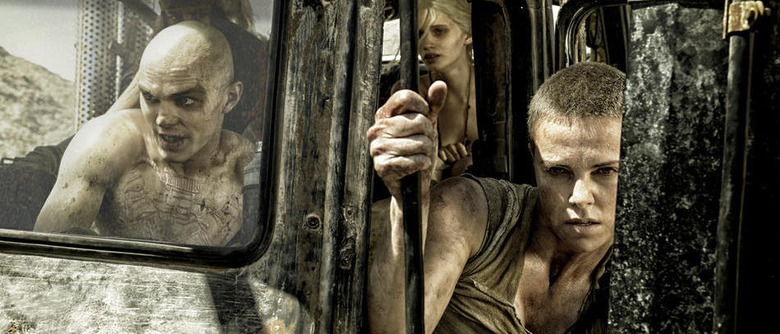 There's a book to be written on the decade and a half development of George Miller's Mad Max: Fury Road. At varying times, plans for the film featured a roster of other projects which came and went as Fury Road itself soldiered on.
A companion film called Furiosa was planned at one point. Even earlier on, that movie was envisioned as an anime prequel or companion to Fury Road. Now we've got designs from that abandoned Mad Max anime, done by Mahiro Maeda, thanks to a Japanese TV show. 
Some background: back in 2009, after one attempt to make Fury Road had failed, and Miller's development of Justice League was also scuttled thanks to a writer's guild strike, Miller told MTV he was working up an R-rated 3D Mad Max anime:
The anime is an opportunity for me to shift a little bit about what anime is doing because anime is ripe for an adjustment or sea change. It's coming in games and I believe it's the same in anime. There's going to be a hybrid anime where it shifts more towards Western sensibilities. [Japanese filmmaker Akira] Kurosawa was able to bridge that gap between the Japanese sensibilities and the West and make those definitive films.
That script was co-written with Nico Lathouris. More recently, Miller told The Playlist "We were going to do ['Furiosa' as] an anime before [Fury Road] was delayed a second time when we were rained out of Australia. But because we were delayed that didn't happen, and so we've got that script, and we've got another one."
More succinctly, he told CinemaBlend, "...as part of this digging down deep, we did write backstories – so we were going to do an anime based on the Furiosa character."
Some designs for the film were done by Mahiro Maeda, the anime designer behind Gankutsuou: The Count of Monte Cristo, and who worked on designs for Evangelion and contributed animation to Nausicaa, Castle in the Sky, and Porco Rosso. Reportedly, these Mad Max designs ended up incorporated as inspiration for Fury Road.
Thanks to a Japanese TV show and Crunchyroll, some of those designs can be seen:
You can see the full Japanese TV report here, albeit in untranslated form.
As for the story itself, Miller said weeks ago,
It's more Furiosa's story and how she came about. Even though it's a chase, to really make the film as authentic as possible we wrote backstories to every vehicle, to every character. We knew Nic Hoult's character Nux from the moment he was conceived, we knew who his parents were, how he became a War Boy.