'7 Days In Hell' Trailer: Andy Samberg And Kit Harington Play The Most Epic Tennis Match Of All Time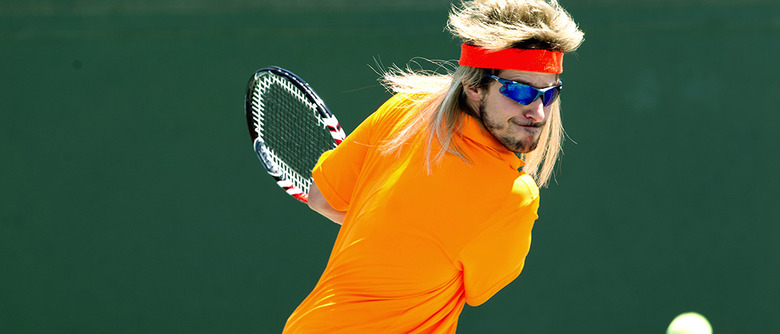 Still recovering from that downer of a Game of Thrones finale? Here's a little something that might cheer you up. HBO has released a new promo for 7 Days of Hell, a 45-minute comedy film starring Andy Samberg and Jon Snow (a.k.a. Kit Harington) as two tennis rivals caught in an epic, record-setting match.
The supporting cast includes actual tennis players like Serena Williams, John McEnroe, and Chris Evert, plus reliably funny actors like Will Forte, Michael Sheen, Mary Steenburgen, Karen Gillan, Fred Armisen, Lena Dunham, and June Squibb as the Queen. Watch the 7 Days in Hell trailer after the jump.
HBO unveiled the new 7 Days in Hell trailer on YouTube.
The trailer offers a pretty good sense of the two very different competitors involved here, and the potential for ridiculous comedy that results. Samberg's Aaron Williams is the "bad boy of tennis," the beneficiary of a "reverse Blind Side" from the Williams family. Then there's Harington's Charles Poole, a British tennis prodigy who might know even less than Jon Snow.
The two find themselves locked in a match that goes on for seven days — four more than the actual real-world record set by the Isner vs. Mahut match at Wimbledon in 2010. The weeklong event offers plenty of time for various shenanigans, including a denim tennis uniform and an on-court makeout session with a streaker.
7 Days in Hell premieres July 11 on HBO. Jake Szymanski directed.
This 45-minute comedy special brings together Andy Samberg and Kit Harington for a star-studded look at big-time tennis. The outrageous sports documentary takes a look back at a pair of fictional players from the not-too-distant past — Aaron Williams (Samberg) and Charles Poole (Harington) — who played a match to end all tennis matches: a seven-day, five-set marathon that took everything, literally, out of the two.
In addition to highlights (and lowlights) from the match, '7 Days in Hell' looks back at the lives and careers of Williams, a hyper-malcontent, and Poole, a dim-witted prodigy who carried England's hopes for a tennis champion on his shoulders. Coloring the backstory of these faux-superstars are a parade of well-known guest stars including Michael Sheen, Mary Steenburgen, Karen Gillan, Will Forte, Fred Armisen, Lena Dunham, David Copperfield, June Squibb, John McEnroe, Chris Evert and Serena Williams, portraying Aaron's adoptive sister.