Cool Stuff: 'Spaceballs' The LEGO Sets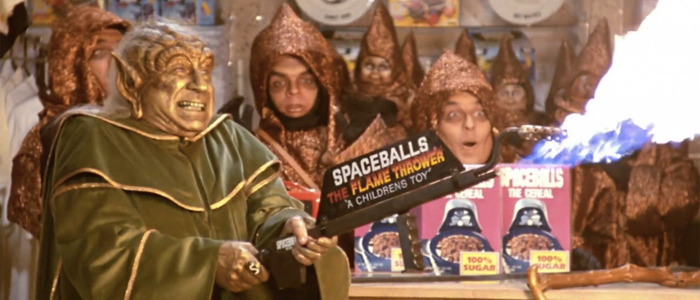 If for some reason you've seen Star Wars but you haven't yet partaken of Mel Brooks' classic parody Spaceballs, it's about time you fixed that. In classic Mel Brooks fashion, Spaceballs mocks everything about Star Wars with self-referenctial humor, fourth wall breaks, and jokes about sci-fi tropes and goofy characters like Dark Helmet. It's a favorite among comedy fans and sci-fi fans alike.
And now there's the chance to partake in wise Yogurt's noble endeavor of merchandising. One fan at LEGO Ideas has crafted two custom LEGO sets that give two of the iconic spacecrafts from Spaceballs the building block treatment. You can help vote to make them a reality. See the Spaceballs LEGO sets after the jump!
As you can see above (via Nerd Approved), the sets are the Eagle 5, the ship that belongs to Lone Star and Barf (in honor of Han Solo, Chewbacca and their Millennium Falcon), and the massive Star Destroyer-esque ship Spaceball One. The Eagle 5 even has secret hyperjets, though Spaceball One does not turn into Mega Maid. My only problem with these sets is the lack of minifigure designs for Lone Star, Barf, Princess Vespa and Dark Helmet. Those are absolutely necessary to make these worth it, though the troopers combing the desert is a nice touch
However, even if they get the right number of votes to make it in front of the LEGO approval board, there might be a slight snag in getting them officially made.
Mel Brooks was only given permission by George Lucas to make Spaceballs if no merchandising was done for the film. And that's why you've never seen any official Spaceballs toys, cups, shirts, or anything like that, despite the direct reference to Spaceballs merchandising from the film:
But since so many years have passed, and surely George Lucas has made enough money off merchandising since Spaceballs was released, maybe a deal can be struck with Disney and Lucasfilm to finally allow some Spaceballs action figures to be made. Funko's ReAction line would be the perfect way to make that happen. As for these LEGO sets, even if they were allowed to be made, I don't think there's a big enough group that would buy them. Much like the unapproved Shaun of the Dead LEGO set, this isn't exactly in the building block company's wheelhouse.
Also, fun fact, if you look at the coloring book and lunchbox that Mel Brooks' Yoda-inspired character Yogurt holds up in the scenes above, you'll see Optimus Prime and the Transformers on each of those items. The Spaceballs logo was just slapped on them instead.
If you want to take a long shot and see if these Spaceballs LEGO sets can get made, then vote for them right here and right here. Otherwise, we'll just keep hoping for a Dark Helmet action figure sometime down the road.