Check Out Poster Posse's Artwork Tribute For The 40th Anniversary Of 'Jaws'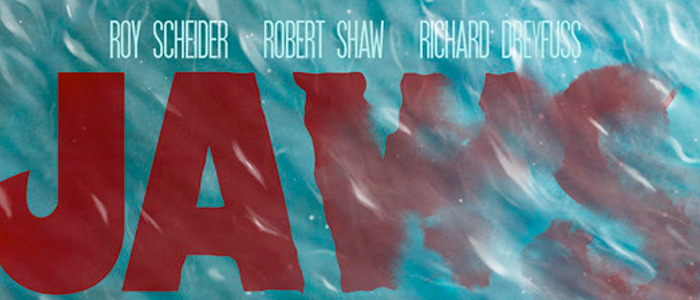 This past weekend marked the official 40th anniversary of Steven Spielberg's classic aquatic thriller Jaws, which was released on June 20th, 1975. The film was the first blockbuster, ushering in the era of event filmmaking, and it has influenced countless filmmakers who we all love today.
So in honor of the 40th anniversary of Jaws, the fans and talented artists from Poster Posse rounded up some artwork to pay tribute to the movie that made people think twice about going in the water. As usual, there are some really cool pieces here, many of which would look fantastic framed on a wall.
Check Out the Poster Posse Jaws tribute after the jump!
Personally, I think the clear winner here is the image featuring the diluted blood pouring from The Orca into the ocean, forming the title. But that landscape size poster with the tagline "At sea, no one can hear you scream" is also very pretty. The piece by Paul Shipper is nothing to scoff at either, mostly because it looks like something Drew Struzan would have made for Jaws. You can see a few more pieces over at Poster Posse.
Don't forget, Jaws is swimming back to theaters this month as well. In fact, one of the screenings already happened this past weekend. But don't worry, because Fathom Events has two more screenings at 2pm and 7pm on Wednesday, June 24th. You can still get tickets to see Jaws again on the big screen right here.
It's a hot summer on Amity Island, a small community whose main business is its beaches. When new Sheriff Martin Brody discovers the remains of a shark attack victim, his first inclination is to close the beaches to swimmers. This doesn't sit well with Mayor Larry Vaughn and several of the local businessmen. Brody backs down to his regret as that weekend a young boy is killed by the predator. The dead boy's mother puts out a bounty on the shark and Amity is soon swamped with amateur hunters and fisherman hoping to cash in on the reward. A local fisherman with much experience hunting sharks, Quint, offers to hunt down the creature for a hefty fee. Soon Quint, Brody and Matt Hooper from the Oceanographic Institute are at sea hunting the Great White shark. As Brody succinctly surmises after their first encounter with the creature, they're going to need a bigger boat.