POTD: Chris Pratt Brings His Raptor Training Skills To A Children's Hospital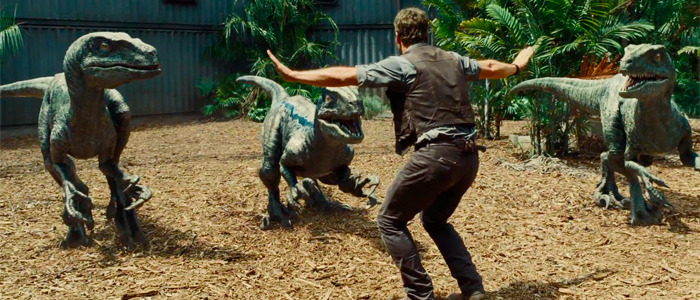 In addition to having the biggest box office opening of all-time last weekend, Jurassic World also sparked a fun new meme. Audiences have already seen Chris Pratt as raptor trainer Owen Grady, having a special bond with his dinosaur pals, and zookeepers decided to turn one particular moment from Grady's raptor whispering into a sensational meme.
Well, now Pratt has topped them all by appearing in a photo where he's training even more cunning creatures of this world. And they're not going to let him get away so easily. See Chris Pratt training raptors at a children's hospital after the jump!
Here's the photo that surfaced online from Reddit user chrysias from an unknown children's hospital: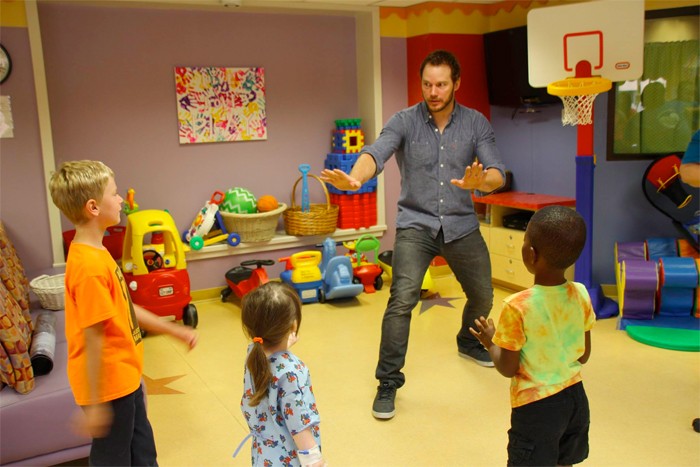 Yep, that's Chris Pratt, and he's got some new "raptors" who don't look like they're going to be quite as good as listening as the velociraptors from Jurassic World. I wouldn't be surprised if after this photo was taken we learn that Chris Pratt was tickled to death. In fact, I'm not sure Pratt would be the alpha in this situation at all.
This is just more wonderful evidence that Chris Pratt is one of the coolest, most generous actors working today. We already new he had a heart of gold since he teamed up with fellow Marvel star Chris Evans to visit a couple of children's hospitals following an infamous Super Bowl bet. At one Pratt dressed like Star-Lord from Guardians of the Galaxy and at another Chris Evans dressed as Captain America. Here's a couple photos from their visits:
But beyond his Marvel persona, Pratt also took the time to visit "LEGO Master," Dylan Prunty, a patient at Children's Hospital Los Angeles to do lines from The LEGO Movie, and there's even adorable footage from the visit if you haven't seen it already:
It's truly wonderful to see stars like this spending their time bringing joy and fun into the lives of kids who can really use a pick-me up from someone like Pratt at a very tough time in their life. The Parks and Recreation star has quickly become one of the biggest movie stars in the world thanks to Guardians of the Galaxy, The LEGO Movie and Jurassic World, and we're glad he's wasting no time doing his best to be a real hero. Saving the galaxy is one thing, but this is on another level. Thanks for being an awesome dude, Chris Pratt.