Meet The Supporting Cast Of 'Ant-Man' In New Photos From The Marvel Studios Movie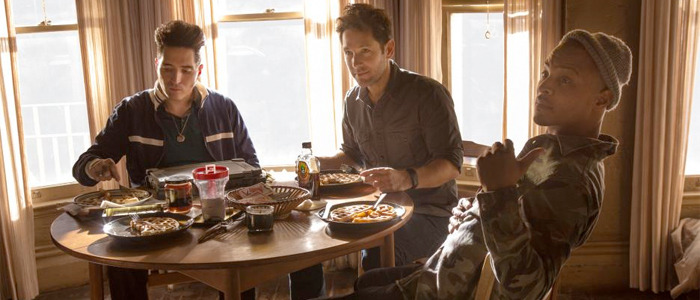 With the release of Ant-Man less than a month away, we've already seen quite a bit from the second Marvel Studios film hitting theaters this summer. Paul Rudd looks great in the Ant-Man suit, Corey Stoll's Yellowjacket also looks pretty slick, and Michael Douglas and Evangeline Lily will also have plenty to do in the tiny superhero's first big screen adventure.
But there's also a whole supporting cast that we haven't really seen much of in the marketing materials for the film so far. But some new photos from Ant-Man have surfaced giving us a better look at Michael Pena (End of Watch), Bobby Cannavale (Boardwalk Empire), David Dastmalchian (The Dark Knight, Prisoners) and rapper turned actor T.I. (Identity Thief). Check out the Ant-Man supporting cast after the jump!
Thanks to ComingSoon.net for pointing out these cast photos.
Bobby Cannavale plays Paxton, Michael Pena plays Luis, T.I. plays Dave and David Dastmalchian plays Kurt. It doesn't sound like any of these characters are based on existing characters from Marvel comics, but more hardcore fans would know better than me.
And while we don't really know anything about these characters, judging by these photos, I'm willing to bet that they are partners in crime (literally) with Scott Lang. More than likely they'll end up helping Lang and Hank Pym with whatever heist needs to be pulled off in the film. It should be a nice change of pace to have a supporting cast of characters in a Marvel movie that isn't another band of superheroes.
Also starring in the film will be Judy Greer (Jurassic World), Martin Donovan (Inherent Vice), Wood Harris (Remember the Titans), Gregg Turkington (The Comedy), Abby Ryder Fortson (Togetherness) and John Slattery reprising his role as Howard Stark from Iron Man 2.
The next evolution of the Marvel Cinematic Universe brings a founding member of The Avengers to the big screen for the first time with Marvel Studios' "Ant-Man." Armed with the astonishing ability to shrink in scale but increase in strength, master thief Scott Lang must embrace his inner hero and help his mentor, Dr. Hank Pym, protect the secret behind his spectacular Ant-Man suit from a new generation of towering threats. Against seemingly insurmountable obstacles, Pym and Lang must plan and pull off a heist that will save the world.
Marvel's "Ant-Man" stars Paul Rudd as Scott Lang aka Ant-Man, Evangeline Lilly as Hope Van Dyne, Corey Stoll as Darren Cross aka Yellowjacket, Bobby Cannavale as Paxton, Michael Peña as Luis, Tip "T.I." Harris as Dave, Wood Harris as Gale, Judy Greer as Maggie, David Dastmalchian as Kurt, and Michael Douglas as Dr. Hank Pym.
Peyton Reed directs Marvel's "Ant-Man" with Kevin Feige producing and Louis D'Esposito, Alan Fine, Victoria Alonso, Michael Grillo, Edgar Wright and Stan Lee serving as executive producers. The story is by Edgar Wright & Joe Cornish and the screenplay is by Edgar Wright & Joe Cornish and Adam McKay & Paul Rudd.
Check out some amusing Avengers-referencing teaser posters for Ant-Man right here, and be sure to check out the most recent theatrical trailer for the Marvel Studios film as well.
Ant-Man hits theaters on July 17th.