'Daddy's Home' Trailer: Mark Wahlberg And Will Ferrell Fight Over Fatherhood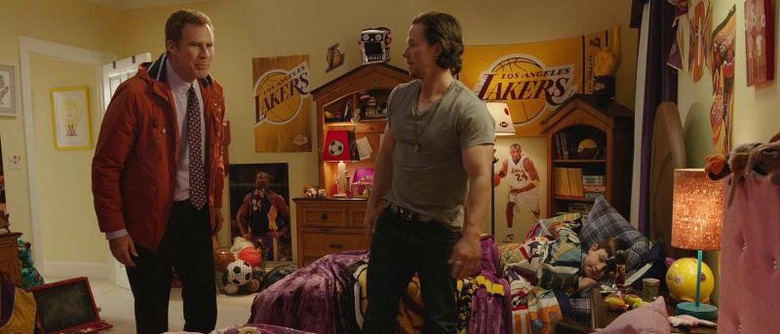 Here's an early Father's Day present for all you dads (and okay, everyone else) out there. Paramount has just dropped a new trailer for Daddy's Home, which reunites The Other Guys co-stars Will Ferrell and Mark Wahlberg as two feuding papas.
See, Ferrell is the well-meaning, if kind of boring, stepdad to two adorable children. But his relationship with them is jeopardized when the kids' biological father, a cool special-ops agent played by Wahlberg, comes back into the picture. Linda Cardellini plays the mom caught in the middle. Watch the Daddy's Home trailer after the jump.
Yahoo debuted the Daddy's Home trailer. This is Wahlberg's second dad-themed comedy this year. He also stars this weekend in Ted 2, which has the titular teddy bear fighting for the right to become a parent.
Ferrell's Brad can't hope to beat Wahlberg's Dusty on sheer cool, and Dusty can't compete with the fact that Brad's been around when he hasn't. But they put up a good fight for the kids. Dusty gets them a dog, so Brad counters with a pony. Brad tucks them into bed with Eskimo kisses, so Dusty buys back their love with cash. The real winner, of course, is the kids. If either of them has half a brain, they'll milk these petty doofuses for all they're worth.
As fun as it is to watch Wahlberg and Ferrell go at each other, here's hoping they'll get a second- or third-act reconciliation. So much of the fun in The Other Guys came from watching these polar opposites forced to tolerate each other. It'd be a shame to let their mismatched buddy-comedy chemistry go to waste.
Daddy's Home arrives in theaters December 25. (Because what better way to take a break from your real bickering family by taking them to watch a fictional bickering family onscreen?) Sean Anders and John Morris (Horrible Bosses 2) directed.