Sequel Bits: 'Hellboy 3', 'Jurassic World', 'Sinister 2', 'Goon 2', 'Terminator: Genisys'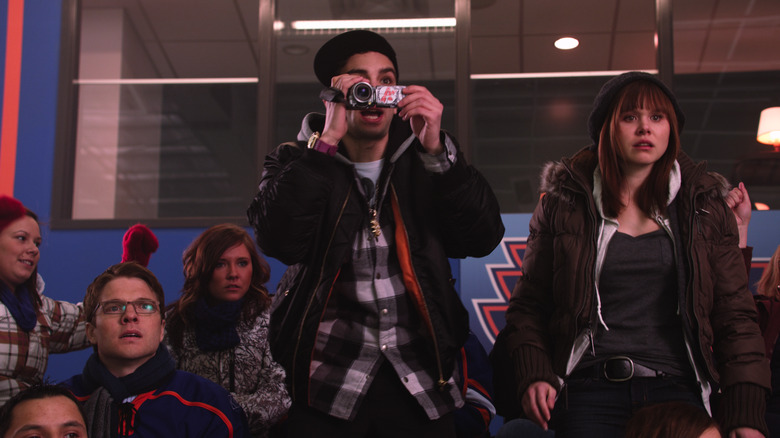 And now, some random sequel-related tidbits to usher you into the weekend. After the jump:
Sorry, Princess Diaries 3 is not currently in the works
Vin Diesel says The Last Witch Hunter 2 is happening
Ron Perlman doesn't want crowdfunding for Hellboy 3
Preorder this Jurassic World limited edition gift set
Revisit Jimmy Fallon's Jurassic World cameo
Red Robin serves up a Terminator: Genisys burger
Jay Baruchel shares a photo from the Goon sequel set
Sinister 2 wishes everyone a happy Father's Day
Earlier this week a
went around that Disney was working on a Princess Diaries 3. It turns out, however, that that's all it was — a rumor. Sources acknowledge the studio considered a sequel, but has so far opted not to move forward. There is no script, Anne Hathaway is not attached, and nothing is in development. Sorry, would-be citizens of Genovia. [
]
According to Vin Diesel, Lionsgate is already thinking about a sequel to The Last Witch Hunter. He wrote in a message to fans:
So the studio apparently is so excited by the Last Witch Hunter – The Axe and Cross franchise... that they are already commencing on the next one. The first one doesn't hit theaters until October 23rd, yet they want me to commit and already block out time to film it.
Which is all well and good, but what are they going to call it? Studios really should stop putting "last" in the title if they're thinking of sequels. [
]
As much as Ron Perlman wants to make Hellboy 3, he won't go the crowdfunding route. "I don't think it's the fans' job to fund a movie," he said. "I think it's up to the people who do it professionally. I think its the fans' job to sit back and buy popcorn and Coke and watch the movie and enjoy it." That said, Perlman says he's "surprised and humbled" by the fans' response to
. [
]
Jurassic World is still tearing up the box office, but Universal already has its sights on your living room. The studio has revealed a first look at a limited-edition gift set that includes Indominus Rex and Tyrannosaurus Rex statues, so you can recreate some of that dino-on-dino action at home.
Non-stop action is around the corner. Bring home the battle & pre-order #JurassicWorld today: http://t.co/as9DHkuYWH pic.twitter.com/Hhy5TJ7ON2

— Jurassic World (@JurassicWorld) June 17, 2015
The Jurassic World gift set is available for pre-order now. [
]
Among all the excitement in Jurassic World, one of the bigger surprises was a small cameo by Jimmy Fallon. He appears as the video host in the Gyrosphere. Which, if you frequent Universal Studios Hollywood, you may recognize as a callback to his real job as the video host of the park's Studio Tour. Now you can enjoy his tiny Jurassic World cameo without risking life and limb to see giant predators up close.
Jurassic World is in theaters now. [
 via
]
Why watch a movie when you can eat it? In honor of Terminator: Genisys, Red Robin has unveiled two limited-edition items: the Genisys Burger and the Blue Haze cocktail (described as "the T-800 of cocktails").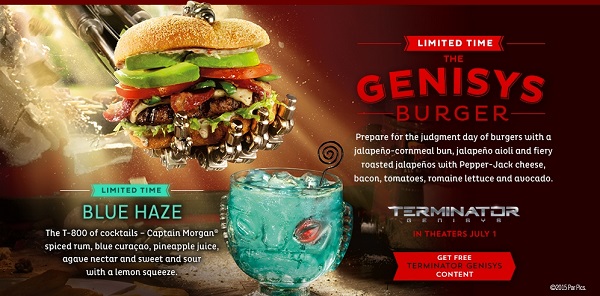 Terminator: Genisys opens July 1. The Terminator: Genisys-themed foodstuffs will stick around until August 23. [via
]
Jay Baruchel is hard at work on Goon: Last of the Enforcers, and has the pics to prove it. Well, one pic, anyway.
Goon: Last of the Enforcers shoots this summer in Toronto. Baruchel will make his feature directing debut with the sports sequel. [
]
Sinister 2 would like to wish dads everywhere a happy holiday. Of course, if you saw Sinister 1, that probably sounds more like a threat than a blessing.
Sinister 2 creeps into theaters August 21. [
]