Producer Says "No Discussions" Yet On 'Indiana Jones 5' As Rumors Emerge Of 2018 Plan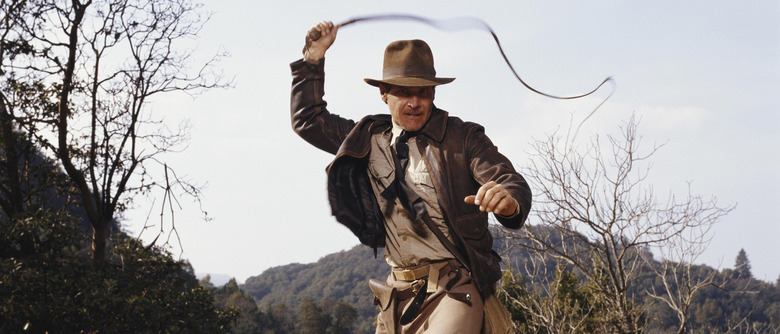 What's the story with the current state of Indiana Jones 5 development? Rumors have flown about a fifth movie since the release of the fourth, Indiana Jones and the Kingdom of the Crystal Skull. More recently, Disney's purchase of Lucasfilm led to more speculation about a fifth outing for Indy, with Lucasfilm saying that a film will happen, with no indication of when. Yet more conversations have suggested that Chris Pratt is being eyed as a replacement for original star Harrison Ford. (Pratt has denied this.)
Now there are rumors of loose plans for a 2018 release developing at Lucasfilm even as producer Frank Marshall tells us there have been "no discussions on Indy 5 to date."
In an interview that will run in full tomorrow morning, Frank Marshall, producer of Jurassic World and all the Indiana Jones films to date, and husband to Lucasfilm head Kathleen Kennedy, told our own Peter Sciretta last week that "there've been no discussions" on the idea of Pratt taking over from Harrison Ford. Peter followed up with this:
So that's just Internet rumor?
Frank Marshall: Yeah. I mean, we've had no discussions on Indy 5 to date.
That seems weird, frankly, but perhaps conversations have so far been focused on Star Wars and Jurassic World. And this line is all we have, so there's some question about whether he specifically meant Pratt's rumored involvement, or the film as a whole. But that statement on the record is the most official thing we have right now.
Just as we were putting this piece together, AICN ran a seemingly conflicting report saying "a long-time and trustworthy source" reports Lucasfilm has penciled in a Q4 2018 date for Indy 5.
That internal planning could be something that cropped up in the wake of Jurassic World's monster success. So while Marshall could have been telling the truth a week ago when he spoke to Peter, things might already have changed.
Just as Jurassic World was followed by Sony giving the green light to the Pratt-starring film Passengers, the film's success could have kick-started new movement on Indy 5. We'll follow up with more details as we get them, and the full Frank Marshall interview will be available tomorrow.