'Kung Fu Panda 3' Trailer: Jack Black And Bryan Cranston Get Some Father-Son Bonding Time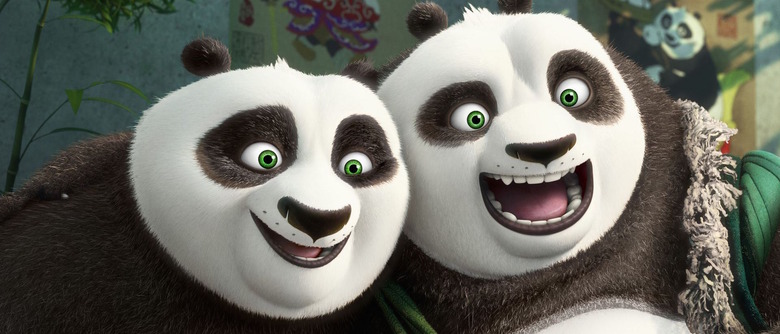 It's a big challenge to keep a franchise fresh three installments in, but Kung Fu Panda 3 has one big surprise up its sleeve. It turns out Po (voiced by Jack Black) isn't the last of his kind, as he previously believed. His dad Li (voiced by Bryan Cranston) is still very much alive, and residing among an entire community of big, fat, happy pandas.
But we're getting ahead of ourselves. First, Po and Li have to find each other, and in the first Kung Fu Panda 3 trailer they do just that. It goes about as well as you'd think. Watch the Kung Fu Panda 3 trailer after the jump.
The first Kung Fu Panda 3 trailer has gone up on YouTube.
Like father, like son, eh? Obliviousness clearly runs strong in this family.
The first Kung Fu Panda 3 offers but a tiny taste of the movie, which is just as well considering its release is still seven months away. There's no hint of the other new pandas (which will include Mei Mei, voiced by Rebel Wilson), nor of the new big bad, supernatural villain Kai.
Besides all of the new characters, Kung Fu Panda 3 will bring back Po's martial artist friends from the previous movies: Tigress (Angelina Jolie), Monkey (Jackie Chan), Mantis (Seth Rogen), Crane (David Cross), Viper (Lucy Liu), and their trainer, Master Shifu (Dustin Hoffman).
Kung Fu Panda 3 arrives in theaters January 29, 2016. Jennifer Yuh and Alessandro Carloni directed.
When Po's long-lost panda father suddenly reappears, the reunited duo travels to a secret panda paradise to meet scores of hilarious new panda characters. But when the supernatural villain Kai begins to sweep across China defeating all the kung fu masters, Po must do the impossible—learn to train a village full of his fun-loving, clumsy brethren to become the ultimate band of Kung Fu Pandas!