Bryan Fuller Shows Off Gorgeous 'American Gods' Concept Art; Neil Gaiman Totally Approves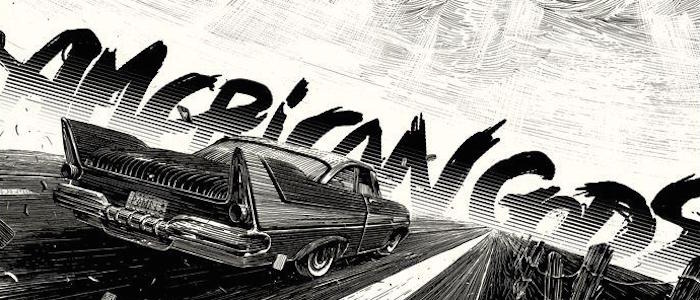 The long-developing American Gods TV show got to take a big leap forward this week when Starz announced it had officially greenlit the show. But even so, it's going to be a while before we're actually sitting down to watch the first episode. They've barely started casting, let alone shooting.
So in the meantime, series co-creator Bryan Fuller has offered up a tiny taste of the upcoming series in the form of some concept art. And for what it's worth, author Neil Gaiman wholeheartedly approves of his story's new look. See the first American Gods concept art after the jump. 
Fuller shared the American Gods concept art on Twitter. The top one looks more like a poster, while the second one appears to be actual concept art. Fuller credits Jim Carson with illustrating the latter.
ON YOUR KNEES (with your prayers) #CastingShadow @AmericanGodsSTZ @FMNATV @andmichaelgreen @neilhimself pic.twitter.com/4BYGt2Bh1w

— Bryan Fuller (@BryanFuller) June 16, 2015
FIND US IN THE #BONEORCHARD @neilhimself @andmichaelgreen @AmericanGodsSTZ Illustration by #JimCarson #CastingShadow pic.twitter.com/CRvV5K4MZ7

— Bryan Fuller (@BryanFuller) June 16, 2015
Both pieces look fantastic — creepy and mysterious and totally gorgeous. Then again, I don't think we would have expected any less from Fuller. He is, after all, the man who delivers TV's most breathtakingly beautiful bloodbaths each week on Hannibal.
Gaiman, for one, is definitely on board:
So that's a YES, then. Here you go.
I love this painting. It's of Shadow's dream of the #boneorchard #AmericanGods pic.twitter.com/VyB2ywA1z8

— Neil Gaiman (@neilhimself) June 16, 2015


American Gods has had a tough time trying to make it to the small screen over the past few years, but between Starz' straight-to-series order and now this stunning concept art, it looks like this new incarnation is off to a great start. Now to find the perfect Shadow...
Here's the synopsis:
The plot posits a war brewing between old and new gods: the traditional gods of biblical and mythological roots from around the world steadily losing believers to an upstart pantheon of gods reflecting society's modern love of money, technology, media, celebrity and drugs. Its protagonist, Shadow Moon, is an ex-con who becomes bodyguard and traveling partner to Mr. Wednesday, a conman but in reality one of the older gods, on a cross-country mission to gather his forces in preparation to battle the new deities.