As 'Ghostbusters' Boston Shoot Looms, Story Details Emerge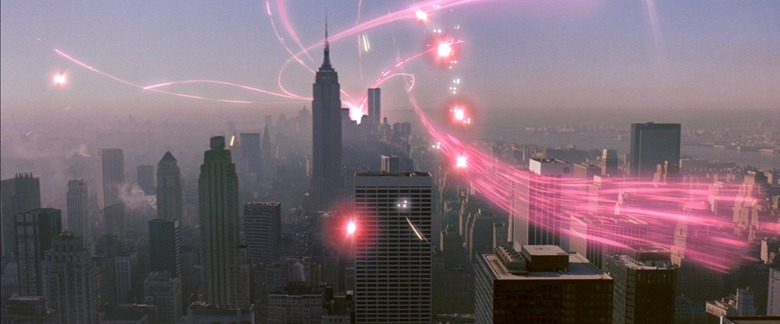 Don't worry, Ghostbusters, even in the re-imagined version being directed by Paul Feig, still takes place in Manhattan. But the film begins its Boston shoot this week, with night shoots featuring the city's financial district doubling for New York. The Boston streets will play home to a big battle between 'busters and ghosts, which also means we'll probably see some set photos of the new characters in action very soon.
Before any sneaky snaps hit the web, however, a report out of Boston has a few new details on Feig's movie. Get the new Ghostbusters story details below. Don't worry about learning everything, however — what we know now is all setup info that will likely be revealed in trailers, at the very least.
The Boston Herald offers up some details on the characters played by Melissa McCarthy, Kristen Wiig, Kate McKinnon, and Leslie Jones, and the ways they are brought together as Ghostbusters.
Specifically (possible spoilers from here on out, though it's all first-act stuff) the site says,
Wiig and McCarthy play a pair of unheralded authors who write a book positing that ghosts are real. Flash forward a few years and Wiig lands a prestigious teaching position at Columbia U. (Like the original, the story takes place in New York City, even though it's being shot in Boston.) Which is pretty sweet, until her book resurfaces and she is laughed out of academia. Wiig reunites with McCarthy and the other two proton pack-packing phantom wranglers, and she gets some sweet revenge when ghosts invade Manhattan and she and her team have to save the world.
That lines up with info that came out earlier this year, positioning one character as "an academic on the tenure track at Columbia," and another as "an MTA employee who comes across the main ghost." Many guessed those two characters would be played by Wiig and McCarthy, and this report goes a long way to confirming that.
There's also the claim that (possible spoiler, again) the green ghost Slimer will return, though whether or not he'll be back in a form familiar to fans of the prior films is open to question. We know what the ectoplasm might look like, at least, thanks to Feig:
And ... action! #slimetimestartstomorrow pic.twitter.com/FBKCAP5zMs

— Paul Feig (@paulfeig) June 17, 2015