Aaron Paul's Post-'Breaking Bad' TV Plans Revealed: He'll Do Hulu's 'The Way'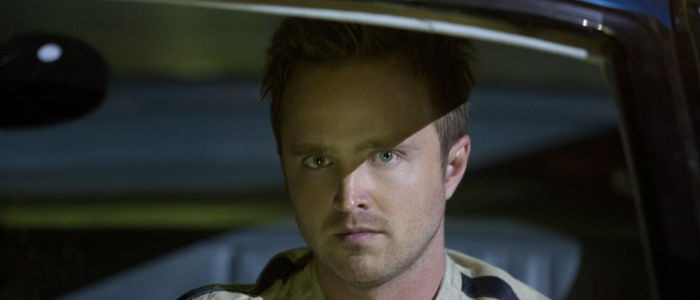 Aaron Paul may have teased fans that Jesse Pinkman would be returning to the small screen but now his actual post-Breaking Bad TV plan has been revealed. Paul has signed on to produce and star in The Way, a new Hulu series from Jason Katims, the executive producer of Friday Night Lights and Parenthood.
Co-starring Michelle Monaghan, The Way will debut this Winter and focus on a family "at the center of a controversial movement struggling with relationships, marriage and power, with each episode taking an in-depth look at what it means to choose between the life we live and the life we want." Read more about the Aaron Paul The Way developments below.
Deadline was among the first outlets to post about the news. In The Way, Paul and Monaghan's characters are married and Paul "suffers a crisis of faith when all that he's come to accept as truth in his life is fundamentally challenged."
Unfortunately, both of those vague descriptions don't really tells us much about the show. It's being described in some places as "faith based" so you have to imagine there's some kind of larger hook here that's just not being revealed yet.
The Way was created by Jessica Goldberg and developed by Katims' production company, True Jack Prods. Paul's company, Lucid Road Productions, is also on board.Mike Cahill will direct the first episode of the 10-episode series, which will start filming this summer aimed at a Winter release.
I have to say, as interesting as The Way sounds, I'm a little surprised Paul is doing another TV series after Breaking Bad. Sure Need for Speed wasn't a huge hit domestically, but that wasn't necessarily his fault. They're doing a sequel, after all. Plus he's got another three or four movies in the can since that one. It seemed like the transition to film was going well enough. I'd imagine doing The Way is a way for his production company to make a name for themselves, plus it's only a 10 episode commitment. Doing The Way isn't a losing proposition, just a surprising one.
What do you think about The Way?