LOL: Zookeepers Recreate Chris Pratt's 'Jurassic World' Pose [UPDATED]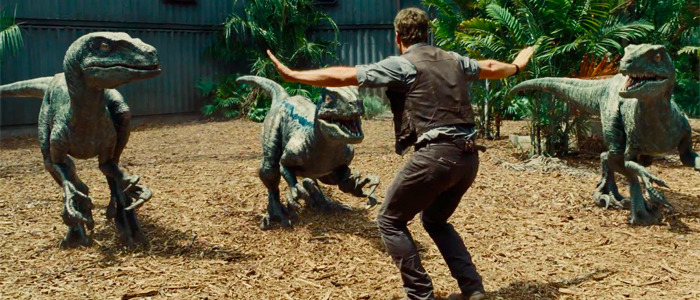 A near $209 million opening automatically makes a movie a cultural milestone. Such is currently happening with Colin Trevorrow's Jurassic World. So far, the funniest result by far is this set of photos. A few zookeepers have taken to social media to recreate the image above, which features Owen Grady (Chris Pratt) carefully controlling a heard of raptors. So what does it look like when a real zookeeper emulates his pose with a bunch of walruses, ostriches or chickens? Find out about the Jurassic World zookeeper meme below.
UPDATE: After posting this story Wednesday morning, this exploded online. See a ton of additional images below.
The meme was originated by Nerdist.com who saw these two images.
And here's another:
@michelledeidre @mbeisen pic.twitter.com/TI7p2v4YGv

— OnlyTrains🚂 (@man_ditch) June 17, 2015
UPDATE: Over the course of Wednesday, a ton more hit the web. Here they are, again, courtesy of Vulture.
We are recreating Chris Pratt's raptor control from #JurassicWorld – with our Southern White Rhinos! pic.twitter.com/ntnm1UsibJ

— Lion Country Safari (@LionCountry) June 17, 2015
Clever girls. The #JurassicWorld @prattprattpratt-challenge finally gets fierce. @NerdistDotCom @michelledeidre pic.twitter.com/glT6LJhDxm

— CA AcademyOfSciences (@calacademy) June 17, 2015
Be it penguins or velociraptors, zookeeping is hard work. #JurassicWorld #Prattkeeping #RaptorSquad #CleverGirls pic.twitter.com/dB0XJdgIlv

— Woodland Park Zoo (@woodlandparkzoo) June 17, 2015
Keep them coming! http://t.co/w7mlKrXWyJ (Image: Jill Sanders; @keepertalk) #JurassicZookeeper @NerdistDotCom pic.twitter.com/o1egM0dw6N

— Kyle Hill (@Sci_Phile) June 17, 2015