The Bermuda Triangle Ensnares Competing Movie Developments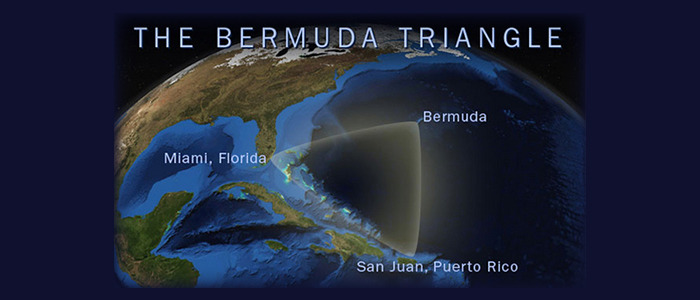 The Bermuda Triangle, that decades-old center of odd aeronautical and oceanic lore, is now the focus of multiple films at different studios. The Caribbean area that has been said to be a mysterious danger zone for planes and ships is a great location for a thriller, especially because factors as varied as alien influence and Atlantis are used to explain the supposed disappearance of various craft.
Earlier this year, Universal set a team to work rewriting a Bermuda Triangle movie pitch that had been sitting at the studio since 2012. Now the Triangle has snared Skydance, the company behind Paramount efforts such as Terminator: Genisys and the recent Mission: Impossible films, as well.
THR reports that Skydance has set Doug Miro and Carlo Bernard (the team which wrote the Nic Cage action/fantasy The Sorcerer's Apprentice) to rewrite an original script by Friday the 13th reboot writers Damian Shannon and Mark Swift.
That mirrors the Universal development, where screenwriters Juliet Snowden and Stiles White (Ouija) are scripting an untitled Bermuda Triangle movie based on a 2012 pitch by Alfred Gough and Miles Millar.
The Bermuda Triangle, unfortunately, isn't really a thing. It's a conceptual relic based in '50s and '60s pulp magazine lore, popularized in the '70s by the "non-fiction" book The Bermuda Triangle.
The Triangle has very loosely-defined boundaries, depending on what source is discussing it. Its "mysteries" are lore that was built out of embellished and, in some cases, totally fabricated stories. The region said to include the Triangle is actually very heavily trafficked by both planes and ships, and poses no unusual danger to anyone.
The fact that the truth of the Bermuda Triangle is nothing more than rumor, however, means writers can do whatever they want. And we still love tales of mysterious happenings at sea, so there's probably a real audience for at least one of these films.
Edit: There's also a third Bermuda Triangle movie in development, at Warner Bros., based on a Daniel Kunka script that WB picked up in 2013 and has been working up as an action project.
[Header image via LiveScience]