'Crimson Peak' Character Posters Introduce The Inhabitants Of Guillermo Del Toro's Haunted House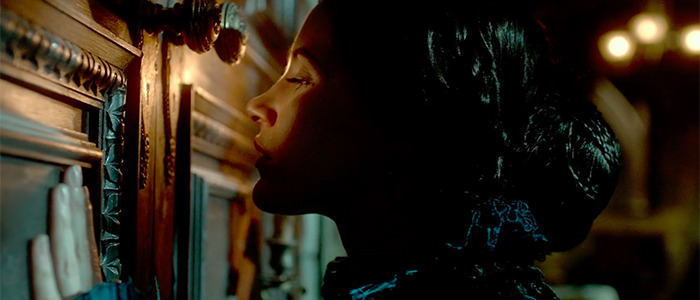 You've had a chance to explore the gorgeous and creepy haunted house of Guillermo del Toro's dreams; now meet some of its equally gorgeous and creepy inhabitants. Universal and Legendary have released four jewel-toned Crimson Peak character posters featuring Mia Wasikowska, Tom Hiddleston, Jessica Chastain, and Charlie Hunnam. Check 'em out after the jump.
Crimson Peak centers on young Edith (Wasikowska) who falls for a man (Hiddleston) who's hiding a whole bunch of secrets. Like, a whole house full of them. His sister (Chastain) seems none too pleased with this new relationship. Nor does Edith's friend (Hunnam), who clearly carries a torch for her.
The Crimson Peak character posters offer a strong sense of the film's rich, moody tone, as well as some hints about each character's role in the story. Hunnam looks relatively normal and boring because he's supposed to; he's the sweet, well-meaning alternative to the sexy and mysterious stranger played by Hiddleston. Chastain's poster burns bright, while Wasikowska looks like she's halfway to becoming a ghost herself.
While the posters aren't terribly upsetting, the movie itself promises to be quite scary. When the master of horror himself, Stephen King, thinks a movie is "just fucking terrifying," you know it's doing something right. Crimson Peak definitely looks like one to watch out for when it opens October 16, 2015.
Legendary Pictures' CRIMSON PEAK, a co-production with Universal Pictures, is a haunting gothic horror story directed by the master of dark fairy tales, Guillermo del Toro (Pan's Labyrinth, Hellboy series, Pacific Rim), written by del Toro and Matthew Robbins and starring Mia Wasikowska, Jessica Chastain, Tom Hiddleston and Charlie Hunnam. In the aftermath of a family tragedy, an aspiring author is torn between love for her childhood friend and the temptation of a mysterious outsider. Trying to escape the ghosts of her past, she is swept away to a house that breathes, bleeds... and remembers. Thomas Tull, Jon Jashni, del Toro and Callum Greene produce, and Jillian Share executive produces.