'Bates Motel' Renewed For Two More Seasons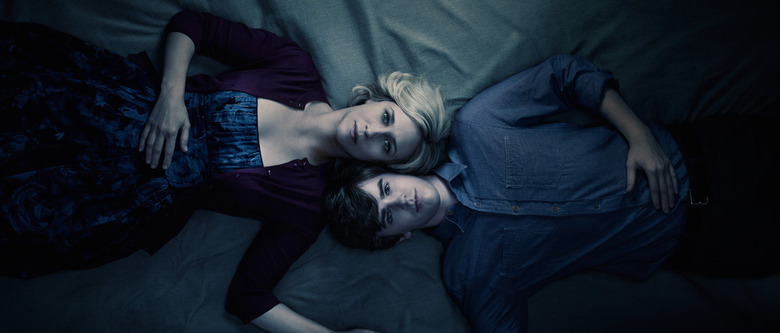 Norma and Norman Bates' toxic relationship will continue for the foreseeable future. A&E has renewed Bates Motel for two more seasons, the show's fourth and fifth. The Psycho prequel stars Freddie Highmore and Vera Farmiga. More on the Bates Motel renewal after the jump. 
Variety reports the next two seasons of Bates Motel will consist of ten episodes each, just as the last three seasons have. But they'll break from the pattern a bit in one major way: Both seasons will air in 2016, with production on the new episodes expected to begin later this year.
Set in the modern-day Oregon, Bates Motel follows Norman Bates (Highmore) as he transforms from a shy teenager into the terrifying killer we met in Psycho. Key to that evolution is his mother Norma (Farmiga). Other major characters include Norman's relatives Dylan (Max Thieriot) and Caleb (Kenny Johnson), his ex-girlfriend Emma (Olivia Cooke), and the local sheriff Romero (Nestor Carbonell).
The series premiere of Bates Motel in 2013 earned A&E's highest ratings ever for an original drama series. Viewership drooped a bit in the third season, but it remains one of the highest-rated ad-supported cable shows. Bates Motel has proved popular with critics as well, and earned Farmiga an Emmy nomination.
It is unclear whether A&E intends for the just-announced fifth season to be its last. Series creators Kerry Ehrin and Carlton Cuse have said before that they envisioned the show running for about five seasons.
"Yes, [it will be] five seasons. Kerry and I have a pretty clear roadmap," Cuse told The Observer earlier this year. "We have a pretty clear plan of where we want to go and we want to bring this story to its inevitable conclusion. I think Bates is not its best version if it's an open-ended series."
But the network hasn't confirmed anything, and considering the show's success it wouldn't be surprising if A&E tried to talk the producers into extending their stay a little while longer. In any case, we can look forward to lots more of Norma and Norman's twisted dynamic next year.