'Fantastic Beasts' Finds Female Lead In Katherine Waterston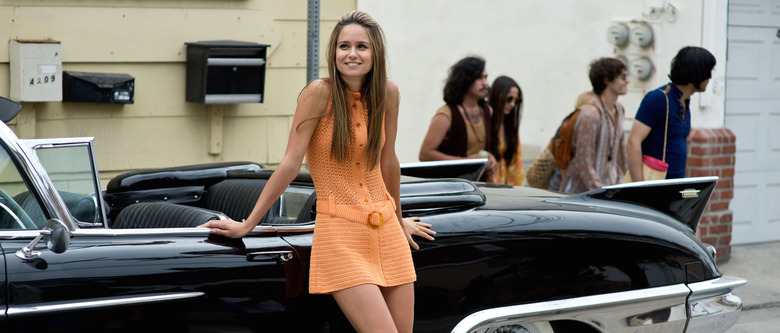 Fantastic Beasts and Where to Find Them has just found itself a fantastic female lead. Katherine Waterston, last seen beguiling Joaquin Phoenix in Paul Thomas Anderson's Inherent Vice, is set to join the Harry Potter spinoff starring Eddie Redmayne. Hit the jump for character details and more on the Fantastic Beasts Katherine Waterston casting.
Set in New York roughly 70 years before the start of the Harry Potter series, Fantastic Beasts and Where to Find Them follows "magizoologist" Newt Scamander (Redmayne) in his quest to find and document magical creatures. The title of the film refers to a book written by Scamander, which goes on to become required reading for Potter and his Hogwarts classmates.
David Yates, who helmed the last four Harry Potter movies, will direct Fantastic Beasts and Where to Find Them. Harry Potter author J.K. Rowling wrote the script. Rowling and David Heyman will produce along with Steve Kloves and Lionel Wigram.
THR reports Waterston will play Tina, short for Porpetina, a witch who meets Scamander on his travels. Waterston was one of three actresses named on a shortlist that made the rounds a few weeks ago. The others were model Kate Upton and Great Gatsby star Elizabeth Debicki.
At the time, we additionally learned Tina was one of two female lead roles. The other is that of Tina's younger sister Queenie. Casting for that role has not yet been announced but Saoirse Ronan, Dakota Fanning, Lili Simmons, and Alison Sudol were said to be among the contenders.
Fantastic Beasts should be a huge boost for Waterston, who had a breakthrough performance in last year's Inherent Vice. Her other credits include Michael Clayton, Being Flynn, Robot & Frank, Night Moves, and the HBO drama Boardwalk Empire. Next up for her is Danny Boyle's Steve Jobs, in which she plays Jobs' girlfriend Chrisann Brennan.
Fantastic Beasts and Where to Find Them opens November 18, 2016.