You Can Pay For 'Dope' Tickets With Bitcoins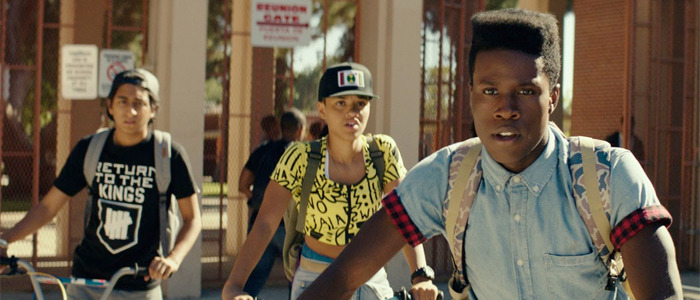 Dope has a strong retro flavor, thanks to its protagonist's obsession with '90s hip-hop culture. But it's actually a thoroughly modern film, right down to its use of Bitcoin as a major plot point. In fact, it might even be a bit ahead of the game. Dope is now the first movie to allow moviegoers to pay for theatrical admission with Bitcoin. Get all the details from the Dope Bitcoin announcement after the jump. 
Open Road Films has announced that starting today, audiences will be allowed to use Bitcoin to buy tickets for Dope on MovieTickets.com. The deal covers over 900 theaters of the 2,000 that will be playing the film. Payment platform GoCoin is on board to help process the transactions. Social media agency Partiqal arranged the deal.
Directed by Rick Famuyiwa, Dope revolves around Malcolm (Shameik Moore), a geeky high schooler who unwillingly gets involved in a drug-dealing scheme. Bitcoin plays a prominent role in the movie, starting with an early scene in which Malcolm explains the digital currency to his mom.
As that last sentence suggests, Bitcoin isn't something everyone understands, or has even heard of. But the move makes sense for Dope, which is aimed at people like Malcolm — young and tech-savvy.
"Dope is fresh, innovative and cutting edge. This partnership reflects all of those qualities of the movie," said Jason Cassidy, Open Road's chief marketing officer. "Bitcoin is an integral part of Dope and we could not be more excited to bring this unique new opportunity to moviegoers."
The Dope deal pushes Bitcoin ever so slightly closer to the mainstream. Despite all the hype that's surrounded Bitcoin in the past few years, it's still relatively rare for major retailers to accept Bitcoin as a form of payment. (Other initiatives have pushed Bitcoin as a purchase option for buying movies online, but not for theatrical tickets.) MovieTickets.com joins companies like Overstock.com, Microsoft, and Dell on the list of companies that do. Or at least, that sorta-kinda do.
However you want to pay for it, Dope is in theaters this weekend.