Sequel Bits: 'Jurassic World', 'Indiana Jones', 'Magic Mike XXL', 'Terminator: Genisys', 'Fear The Walking Dead'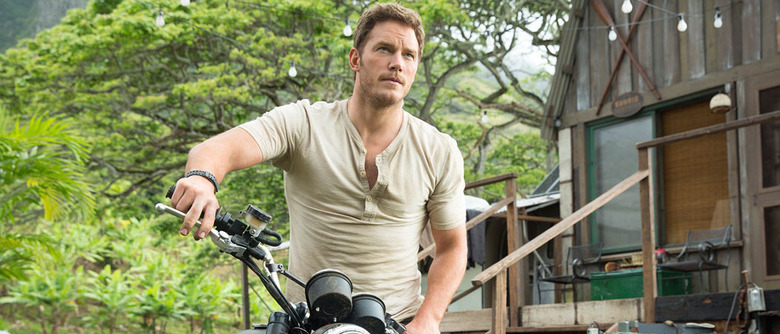 More dino movie tidbits, plus writhing men and angry robots. After the jump:
Kauai thanks Steven Spielberg for the Jurassic movies
A lot of Jurassic World's money came from 3D
Frank Marshall expects a call about Jurassic World 2
Shawn Hatosy signs up for Fear the Walking Dead
See a new poster for Alvin and the Chipmunks 4
Paranormal Activity branches out with a VR game
UK bookies think Damian Lewis could be the new Bond
Arnold Schwarzenegger is the new voice of Waze
Take in a new clip from Terminator: Genisys
Channing Tatum gets his Magic Mike on at LA Pride
Jimmy Kimmel asks Chris Pratt about Indiana Jones
Isla Nublar isn't a real place. But Kauai, where a lot of the Isla Nublar scenes are shot, is. And the Kauai Visitors Bureau is so happy to be a part of the Jurassic Park franchise, they've released a tribute video thanking Steven Spielberg for shooting all four films there. Spielberg directed the first two installments and executive produced the last two.
***
You've probably heard by now that Jurassic World had one of the biggest opening weekends of all time. And 3D was responsible for a huge chunk of that. According to RealD, 3D accounted for 48% of the domestic gross and 65% of the international gross. Universal's estimates are a bit lower, but either way it adds up to a whole lot of people paying extra to have debris chucked at them in three dimensions. [PRNewswire, Box Office Mojo]
***
Jurassic World producer Frank Marshall knows his rebooted franchise has a future, even as he's trying to take things one step at a time. "I'm sure that probably, maybe even Friday night I'm going to get that call about 'okay, what's next?' I'm going to get through this one first and then we'll talk about that." [Collider]
***
AMC's Fear the Walking Dead has added one more of the living to its ranks. Shawn Hatosy (Southland) will have a recurring role on the Walking Dead companion series as a soulful military dude who has good intentions, but is nonetheless woefully out of his element. Fear the Walking Dead debuts on AMC later this year. [Deadline]
***
A trio of mischievous rodents go for a joyride in a new poster for Alvin and the Chipmunks: The Road Chip. The absence of a human suggests Alvin is driving, which makes no sense since he's obviously too small to see over the steering wheel and reach the pedals at the same time.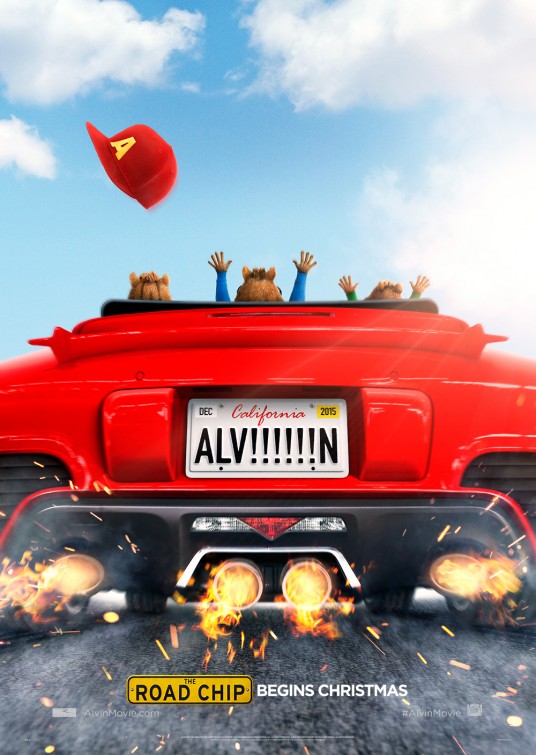 Alvin and the Chipmunks: The Road Chip opens December 23. [IMP Awards]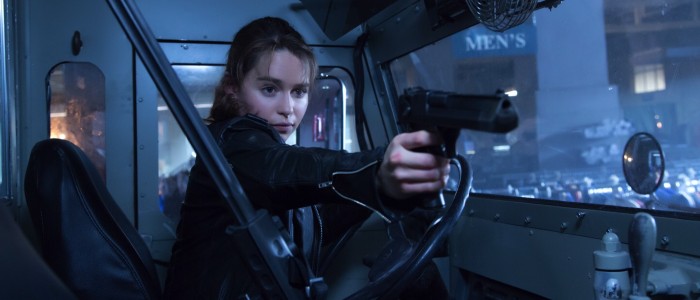 The Paranormal Activity franchise is branching out beyond sequels and spinoffs. Beast Media Group's VRWERX has announced a Paranormal Activity virtual reality video game to hit next year on Oculus Rift, Project Morpheus, and HTC Vive, as well as PC, mobile, and consoles. According to the press release, they're hoping to deliver "the scariest experience you've ever had!" [Coming Soon]
***
Daniel Craig has at least two films left on his Bond contract, including Spectre, but U.K. bookies are already taking bets on who'll replace him as 007. And recently, a new favorite has emerged: Homeland star Damian Lewis. Do they know something we don't, or are they just messing around? Here's a hint: it's not the former. Anyway, Spectre opens November 6. [EW]
***
Come with Arnold if you want to live — or at least, not get lost in traffic. Arnold Schwarzenegger is the new voice of Waze, as part of a Terminator: Genisys promotion that will last through mid-July. "In 1984, when we did (the first) Terminator, we talked about the world being run by machines. It was science fiction then," he mused. "Now you have machines telling you where to drive." [USA Today]
***
Speaking of driving, the Terminator (Arnold Schwarzenegger) and his adopted daughter Sarah Connor (Emilia Clarke) seem to be having some trouble with the routine activity in this new clip from Terminator: Genisys. Though to be fair, it's hard to steer straight when you've got a killer robot coming after you.
Terminator: Genisys opens July 1. [YouTube]
***
Channing Tatum hit the road this weekend to promote his new road trip movie, Magic Mike XXL. Specifically, he hit the roads of Los Angeles, on a Pride Parade float with his XXL co-stars Matt Bomer and Adam Rodriguez. If you're disappointed to see they're more or less clothed, well, you'll just have to buy a Magic Mike XXL ticket to get all the goods.
I'M ON A FLOAT! Celebrated #LAPRIDE45 today with the #MagicMikeXXL crew. pic.twitter.com/ac6zVWprpb

— Channing Tatum (@channingtatum) June 15, 2015
Magic Mike XXL arrives in theaters July 1. [Twitter]
***
Chris Pratt made an appearance on Jimmy Kimmel's show recently, where Kimmel got to ask Pratt the question on everyone's mind: "You're going to play Indiana Jones next, yes?"
Pratt looked genuinely flustered, spitting out an "I don't know." Eventually, however, he was able to recover with a joke: "I don't know. I missed a phone call the other day. Unknown number. I hope it wasn't him." [Jimmy Kimmel]