'Smosh: The Movie' Trailer Goes Inside YouTube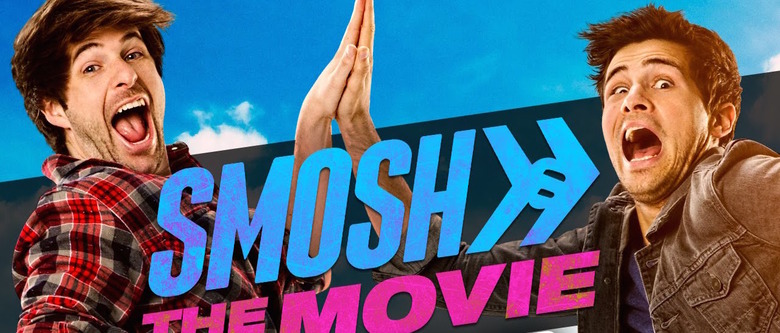 YouTube stars Ian Hecox and Anthony Padilla, collectively known as Smosh, are making the leap from YouTube to the big screen. And for their first cinematic outing, they're going on an epic adventure... back to YouTube.
In the first Smosh: The Movie trailer, the guys are desperate to get a certain embarrassing video removed from the popular streaming service. But the only way to do that, it turns out, is to go through a portal that takes them into YouTube itself. Watch the Smosh The Movie trailer after the jump.
The Smosh The Movie trailer debuted on (where else?) YouTube.
The name "Smosh" may draw a blank if you don't spend a lot of time on YouTube, but they're among the biggest stars on the site. Since joining YouTube in 2005, Smosh has racked up over 20 million YouTube subscribers, and over 4 billion views.
Variety describes Smosh The Movie as "a modern-day version of Bill & Ted's Excellent Adventure," which seems about right. Especially seeing as Bill S. Preston, Esq. himself (that is, Alex Winter) directed the movie. Instead of historical figures, YouTube stars like Jenna Marbles, Grace Helbig, and Harley Morlenstein make cameos, along with "Stone Cold" Steve Austin and Michael Ian Black.
Smosh: The Movie will get a limited theatrical rollout starting July 24. It's expected to hit digital and VOD platforms soon afterward, and is available for pre-order now on iTunes, GooglePlay, Amazon, and more.
When an embarrassing video surfaces before their high school reunion, Ian and Anthony go inside YouTube to try and rewrite history. Journey deeper into YouTube with the unrated cut and outrageous bonus content featuring Ian and Anthony, the creators of SMOSH, on the making of their first movie, Steve Austin on being the idol, Jenna Marbles on being Jenna Marbles and Michael Ian Black on promoting a certain type of comedy.