VOTD: World Record Set For Riding Jurassic Park River Adventure At Universal Studios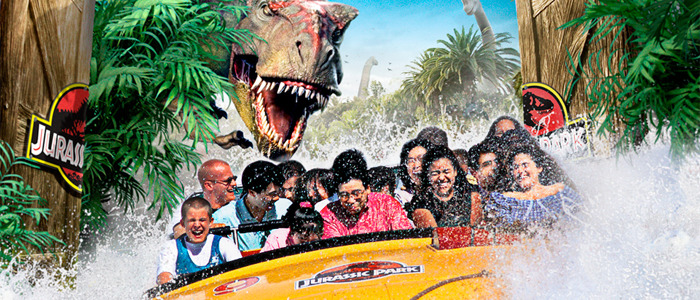 With Jurassic World currently in theaters, people just can't stop talking about Jurassic Park. And since we here at /Film love both the Steven Spielberg-directed action adventure and theme parks, we couldn't help but call attention to a new world record set on the Jurassic Park River Adventure ride at Universal Studios Hollywood in Los Angeles, California.
Jake & Dave are two dudes who just decided that they wanted to set the world record for most rides in a single day (or as long as the park is open) on Jurassic Park River Adventure, and they chronicled their fun on the splashtastic ride for our enjoyment. Watch the Jurassic Park ride world record below!
Spending all day at a theme park can be exhausting by itself, but spending that day on a single ride just sounds kooky. But I guess if you can do something so simple to set a world record, then it might be worth spending 12 hours riding the same attraction over and over again. Surely they must be massive Jurassic Park fans to pick this ride for their world record endeavor.
If you've never been to Universal Studios Hollywood, you get a pretty good idea of what it's like to be on this ride in this video. It's basically an extended, massive waterslide, complete with dinosaurs like stegosaurus, dilophosaurus, velocipraptor and even tyrannosaurus rex. However, you don't really get a good glimpse of what the t-rex does on the ride in this video, but that might be because he pops out right before the 84 foot drop to splashdown.
The ride itself takes about five and a half minutes to complete, so with 12 hours, you would think they would be able to ride it many more times. But Jake & Dave likely had to wait in line with crowds and stop to eat some food at least once. For those who don't feel like watching the whole video, Jake & Dave ended up riding Jurassic Park River Adventure 60 times. I can't imagine anyone is going to top that anytime soon, unless some of you out there are thinking you want this world record to yourself.