'Break Point' Trailer: Jeremy Sisto And David Walton Are A Match Made In Tennis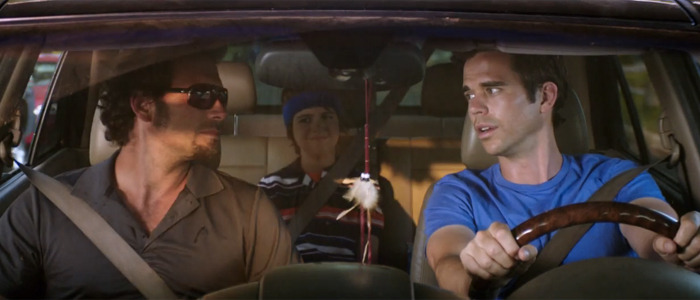 For some reason, there's an influx of tennis comedies on the horizon. We just got a peek at HBO's sports mockumentary 7 Days in Hell starring Andy Samberg and Game of Thrones star Kit Harington and now another comedy from the courts has just debuted a trailer.
Break Point stars Jeremy Sisto (Clueless) and David Walton (About a Boy) as two estranged brothers who attempt a comeback in each of their own lives by uniting to play in a grand slam tennis tournament. The sports setting is merely a backdrop for self-discovery, but it's not everyday that this happens on the tennis court, so this might be worth seeing. Watch the Break Point trailer after the jump!
Here's the Break Point trailer straight from Broad Green Pictures:
Honestly, this doesn't look half bad, especially for a feature debut from television and stand-up special director Jay Karas. It's not raucously hilarious, but both Sisto and Walton seem to be pretty charming in the lead roles. If anything it just seems like a harmless coming-of-age tale about two brothers who should have grown up years ago.
The film didn't get any overwhelmingly positive reviews after premiering at South by Southwest earlier this year, but Variety says, "That it works as often as it does is largely due to Sisto and Walton's playful, relaxed style of back-and-forth, which manages to draw the biggest chuckles precisely by not straining too hard for them." That's definitely clear in the trailer, and the duo just might save what would have otherwise been something more forgettable.
Plus, the supporting cast looks to offer some laughs as well as evidenced by the quips from J.K. Simmons and Amy Smart in the trailer. The rest of the cast also includes Joshua Rush, Vincent Ventresca, Chris Parnell and Workaholics and Pitch Perfect star Adam Devine.
Jimmy Price (Jeremy Sisto) is a reckless man-child on the last leg of his career as a doubles tennis player. When his latest partner drops him, he realizes he's officially burned all of his bridges on the pro circuit. He decides to make one last ditch effort to revive his career, reaching outside of the tennis world and convincing his childhood partner — his estranged brother Darren (David Walton), now an apathetic substitute teacher – to team up with him. The mismatched pair, with the help of a unique 11-year-old named Barry, make an unlikely run at a grand slam tournament and are forced to re-discover their game, and their brotherhood.
Break Point first hits VOD on July 21st and limited theaters this fall on September 4th.