Fast And Furious: Supercharged: Here's What To Expect On Universal's New Ride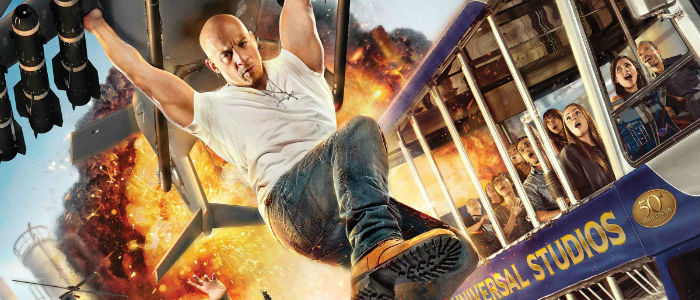 Fast and Furious Supercharged, the new attraction at Universal Studios Hollywood, is like a shot of Nos. It lays dormant, you know it's there, then when it comes up unexpectedly, it's crazy fast and great but over very quickly.
"Nos" is a brand of nitrous oxide used in the Fast and Furious movies to give the cars a boost of speed, which is exactly what Fast and Furious Supercharged does for an already classic ride. You see Supercharged is the finale of the Universal Studio Tour, the iconic tram ride that takes you on the back lot of Universal Studios Hollywood, through a ton of memorable locations and settings. Jaws, Psycho, King Kong, there's a bunch of stuff here. And for a while, you almost forget Fast and Furious is part of it all. But then, it hits you hard and it's a super exciting ending to the ride.
Fast and Furious Supercharged opens to the public June 25 but, below, you can read more about it.
Note: I'm going to basically describe the entire ride so, if you plan on riding it, stop reading after this paragraph. Just know that it's a lot of fun, you won't be disappointed, but it's very short and exciting. Okay on with the spoilers.
Nothing happens for 45 minutes.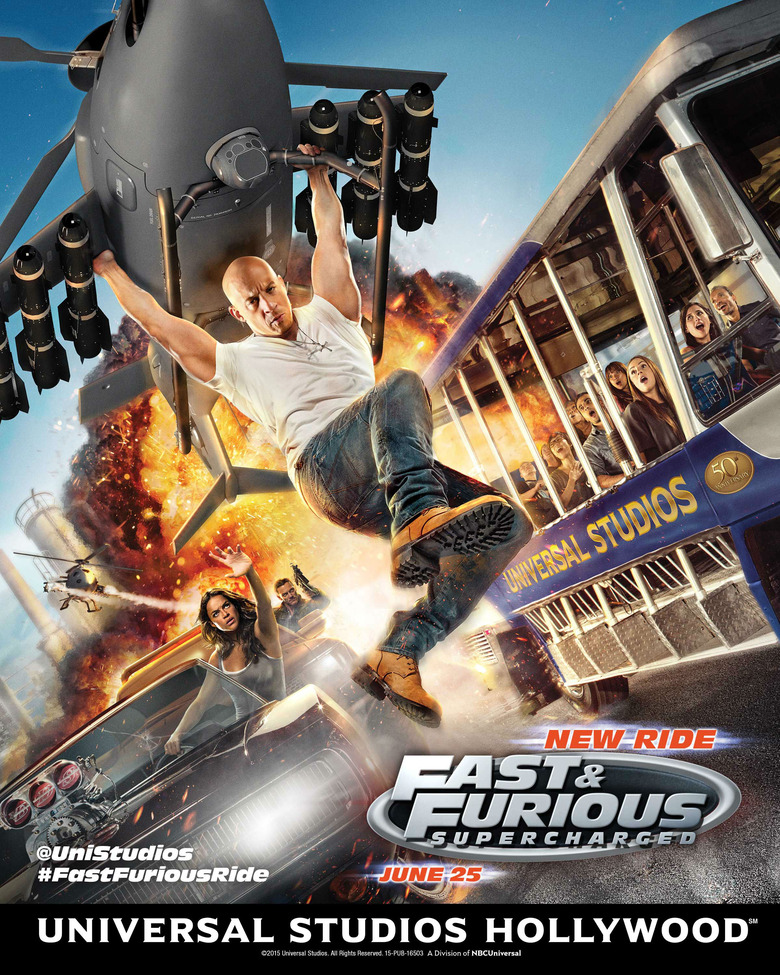 Well, not nothing. For about 45 minutes, the Universal Studios Tram tour goes on about its business. And if you've never been on it (or even if you have) it's a delight. So many cool things to see and so much history. It's very very nice. There's even some Fast and Furious stuff for you to see too, such as cars from the previous films. Plus the ride has been updated pretty recently, as there's even a vehicle from Jurassic World on it (which, oddly enough, is a massive spoiler for that movie. Highlight to read. It's the old Jurassic Park jeep the kids find in the old visitors center.)
So you're moving along and right after Jaws pops out of the water, your tram sees a 1970 Dodge Charger parked on the side of the street. Your tour guide gets nervous (they're in on the act, of course) and calls security. A video pops up and security says they'll check it out.
The tram next goes through Whoville, past the Bates Motel and suddenly, another video break in about 5 minutes later. It's an FBI agent that confirms, yes, that's the car of notorious criminal Domenic Toretto (Vin Diesel). Do not engage as he's dangerous. The tram ride continues through War of the Worlds when there's yet another break in. This time it's Agent Hobbs (Dwayne Johnson) and he says he's taking control of the tram because criminal Owen Shaw (Luke Evans) wants a witness who is board. Hobbs directs you to a garage where you can hide. So finally, after about 55 minutes on the tram, you enter Fast and Furious Supercharged.
Pre-Ride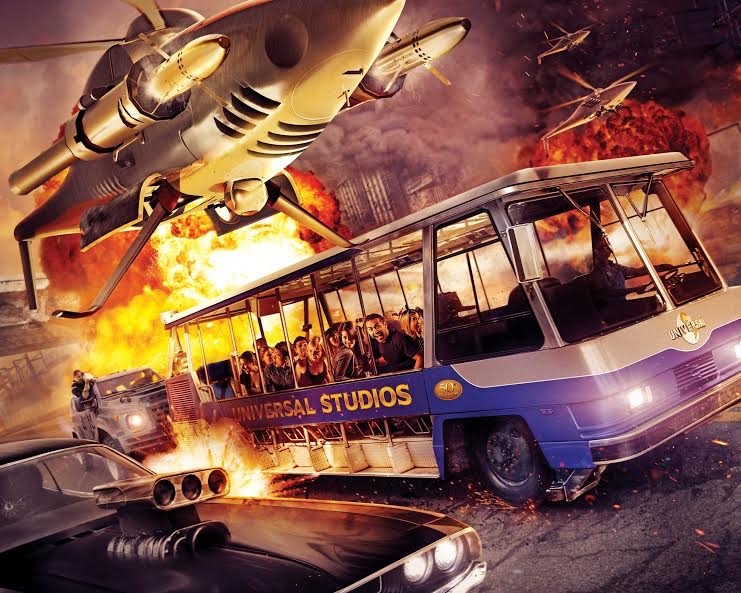 In the first room, Roman (Tyrese Gibson) appears on the screen tells the tram is can hide there from Shaw. You're in a garage and you notice the crazy, shark like tow truck on the side as well as a massive assault vehicle. These will come into play soon. Leddy (Michelle Rodriguez) joins Roman in the video and tells everyone to turn off their cell phones as to not alert the bad guys. They then invite us to a party.
Room two is a party scene complete with four bays so every part of the tram has a unique look. Scantily clad guys and girls are dancing before the FBI arrives to shut down the party. Roman is confused and argues until his boss – Dom – shows up. Then Hobbs shows up. And you get about a minute long, fun playful banter between everyone via a lighting technique that makes them look real. (It's called Peppers Ghost.)
Finally, it's time to get you out of there and the tram movies into the ride section of the ride. You put on 3D glasses and the entire room becomes a huge 360 degree screen. As it starts, you have Dom driving on one side and someone else on the other side. Shaw then arrives and Dom says you're going too slow. Leddy and Roman attach the tram to their super fast tow trucks and off to the races you go.
Fast and Furious: Supercharged The Ride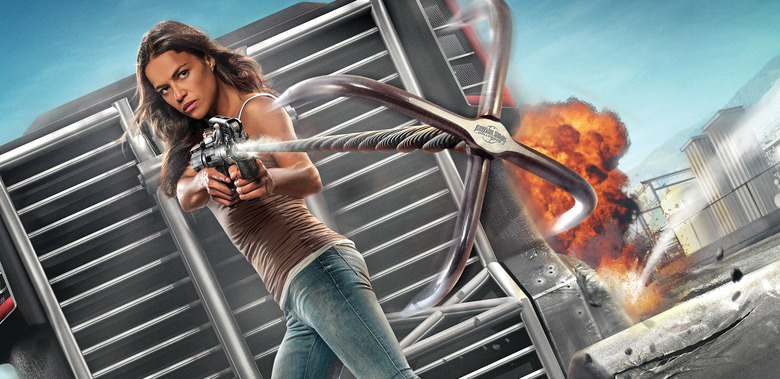 Basically, the tram is running down the 110 highway in Los Angeles going toward downtown. Shaw is firing machine guns, Leddy has a crane, it's just insanity. Smoke is flying, water is flying, Dom jump on the bottom of a helicopter and flies over the tram, and finally, the bridge is out in front of you. You hit the Nos, fly over the gap and make a perfect landing. Cue "That's How We Roll."
All in all, Fast and Furious Supercharged – the actual ride – probably is only 60 seconds long. But it's a wild 60 seconds and that's a perfect length after you've been on the Tram for almost an hour. The effects are crisp and clear, the sound is great and you really feel the speed. It's a great addition to an already great ride and one that fans are sure to enjoy for years to come.
One last note. If you've seen the Fast and Furious movies, the ride doesn't make much sense in the "Canon" of the series. Shaw was thought killed at the end of the sixth film, yet in Furious 7, we see that he's still alive. Therefore, you get a feeling the ride might be a bit of a tease what to expect as the franchise leads into its Eighth installment and beyond.
Are you going to check out Fast and Furious Supercharged?