'Kindergarten Cop' Is Getting A Remake And Maybe A TV Show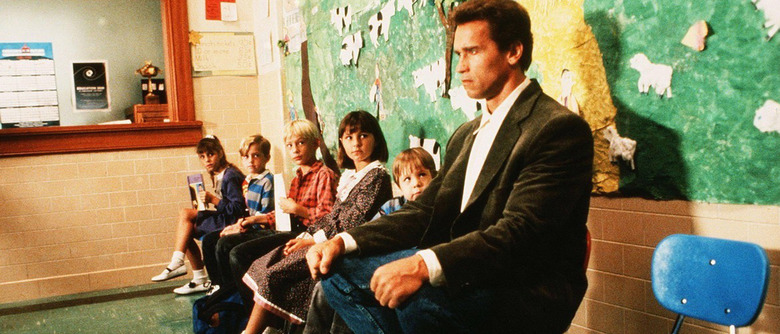 Another of Arnie's old hits is coming back to life. A remake of Kindergarten Cop is reportedly in the works, likely for a home video release. More interesting is the notion that this could pave the way for a Kindergarten Cop TV series. More details on the Kindergarten Cop remake after the jump. 
Showbiz 411 reports the Kindergarten Cop remake will come from Universal's 1440 division, which specializes in direct-to-video sequels and remakes of old movies. Their works include Jarhead 3: The Siege, The Scorpion King 4: Quest for Power, and Beethoven's Treasure Tail. The remake is definitely happening, but the site notes that this could also be a maneuver to help get a Kindergarten Cop TV series off the ground.
The new film pairs the protagonist with an Indian sidekick named Sanjit. They're looking for a flash drive stolen from the Federal Witness Protection Program, which has somehow made its way to — you guessed it — a kindergarten classroom. Unnamed Leading Man Type and Sanjit's adventures also involve a beautiful teacher who takes a shine to our hero, and a bunch of Albanian bad guys.
Don Michael Paul (Jarhead 2: Field of Fire) will direct the Kindergarten Cop remake from a script by David H. Steinberg (American Pie 2). No casting has been announced, but filmmakers are reportedly looking at TV stars to fill the roster. Arnold Schwarzenegger is not involved. He has better things to do, like try to get a Twins sequel together.Ivan Reitman directed the original Kindergarten Cop, in which Schwarzenegger played a police detective who poses as a teacher in order to capture a drug dealer. Reviews were mixed but it was a box office hit anyway, taking in $200 million. It's also notable for being the site of director Jason Reitman's first kiss — Ivan decided to cast his own son as a student caught making out with a girl.