HBO Presses Pause On David Fincher Series 'Videosyncrazy'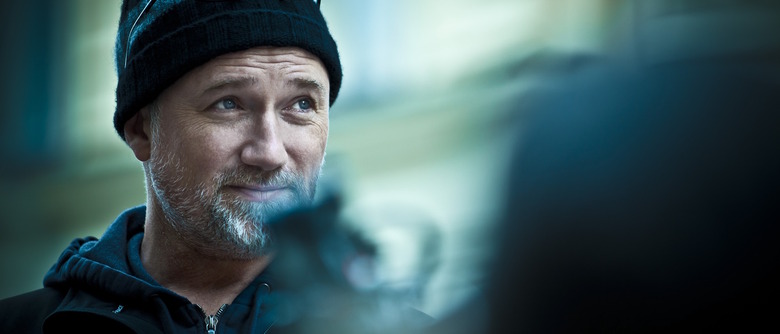 David Fincher's latest project has hit a big snag. HBO has reportedly shut down production Videosynchrazy (also formerly known as Living on Video and Video Synchronicity), Fincher's comedy series about the 1908s music video industry. The show, which had been ordered to series last month, was midway through production on its 10-episode first season.
Get the latest update on the David Fincher HBO comedy after the jump.
As of now the show's future at HBO is unclear. Deadline has conflicting reports: they've heard some cast members were told the show isn't moving forward, but they've also heard the show is just on pause while Fincher reconsiders the series' creative direction.
Videosynchrazy was reportedly in the midst of shooting its fourth or fifth episode when HBO, having seen some of the earlier completed episodes, called for a stop. Some script retooling may happen before Videosynchrazy resumes production. Specific details about the show's problems are unknown.
HBO had ordered Videosynchrazy to series last month. Charlie Rowe leads the cast as Robby, a wide-eyed college dropout in 1983. He moves to Hollywood with dreams of directing a sci-fi epic, and lands a job working as a PA for a music video company. Through his eyes, the show chronicles the ups and downs of the then-hot music video industry.
Fincher himself got his start directing music videos and commercials in the 1980s before making his feature filmmaking debut with Alien 3 in 1992. Videosynchrazy is based on his ideas, and he directed multiple episodes. The series is written by Rich Wilkes and Bob Stephenson.
Besides Videosynchrazy, Fincher also has Utopia and Shakedown in the works at HBO. The former is a remake of the UK thriller series (not to be confused with that short-lived US reality series of the same title), which reunites Fincher with his Gone Girl screenwriter Gillian Flynn. The latter is a 1950s crime drama from author James Ellroy (L.A. Confidential).