Exclusive 'Advantageous' Poster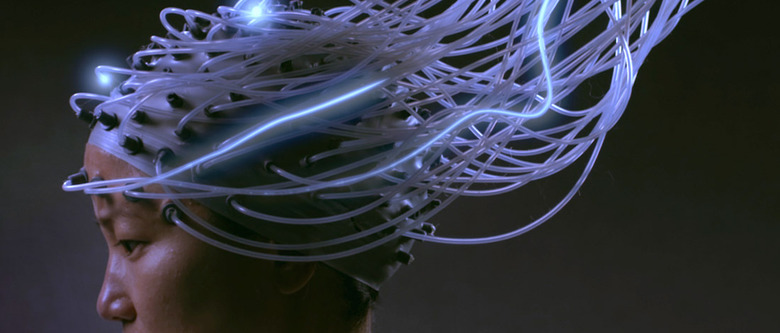 The very best sci-fi movies are the ones that go beyond ooh-ing and ahh-ing at cool gadgets, to dig into the thornier questions of what these technologies mean for humankind, and what they can tell us about ourselves. And that's what makes the award-winning Sundance drama Advantageous look so intriguing.
Directed by Jennifer Phang, Advantageous features a newfangled procedure that allows people to transfer their consciousness into a new body. But the story is really about a single mother (Jacqueline Kim) who, through various social and economic forces, is forced to consider undergoing the process in order to secure a brighter future for her young daughter (Samantha Kim).
We're pleased to debut an exclusive Advantageous poster in advance of its premiere. Hit the jump to check it out and learn more about the film.
Advantageous started out as a short film (which you can still watch here), which was then turned into a feature through the magic of Kickstarter. The full-length film debuted ear lier this year at Sundance, where it picked up the U.S. Dramatic Special Jury Award for Collaborative Vision and a bunch of great reviews besides. Some of which have been quoted in the poster above.
Advantageous hits Netflix June 23 and opens in theaters June 26. If you happen to be in New York, you can also catch its debut at BAMcinemaFest on June 21.
Set in the near future, ADVANTAGEOUS focuses on Gwen Koh (Jacqueline Kim), a single mother, whose aspirations for her daughter drive her to the precipice of a fraught decision. Gwen works as a spokesperson for the Center for Advanced Health and Living (an innocuous sounding organization that is, in fact, a corporate behemoth) and finds that she is in danger of losing her job. That would make it impossible for her to send her daughter Jules to private school, a termed "advantage" that in actuality is more a necessity to shield Jules from this future society's brutal economic disparities. The Center's newest and untested health procedure offers Gwen a dangerous, life-altering chance to continue her career. To weigh her options, Gwen attempts to reconnect with an estranged relative (Ken Jeong, "Community") and his new wife, but as seems standard for all in this dystopian landscape, Gwen remains alienated and alone.
Through this allegorical structure, ADVANTAGEOUS intelligently investigates present-day society's perspectives on femininity and motherhood and how they intersect with questions of beauty, surveillance and the economy. Including eerie and ingenious low-key special effects and a deliciously understated performance by Jacqueline Kim, this sci-fi film is rife with underlying tension and lyrical beauty perfectly matching the city's atmosphere of quiet desperation. Also starring Jennifer Ehle ("A Gifted Man", ZERO DARK THIRTY) and James Urbaniak ("The Venture Bros.," HENRY FOOL).