Sony Sets 'The Equalizer' Sequel For 2017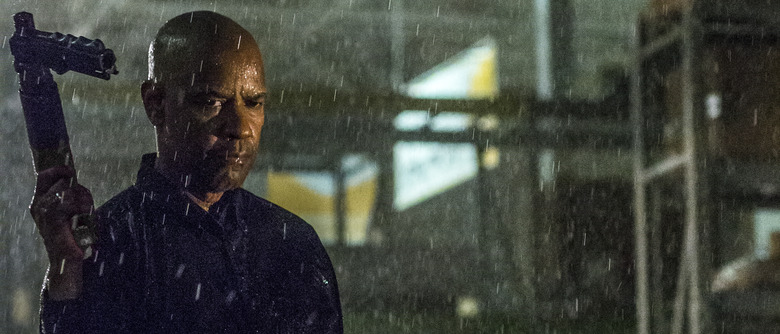 Sony was so confident in The Equalizer, it got the ball rolling on a sequel months before the first one hit theaters. And now it looks like the studio's franchise dreams are coming true. The studio has set a 2017 release date for The Equalizer 2, with Denzel Washington set to return as vigilante Robert McCall. Hit the jump for all the details on the Equalizer sequel release. 
Exhibitor Relations confirmed The Equalizer 2 will open September 29, 2017.
Sony's EQUALIZER 2: THE SEQUELIZER drops 9/29/17–exactly 3 years after the original.

— Exhibitor Relations Co. (@ERCboxoffice) June 11, 2015
As the site points out, that puts The Equalizer 2 in the exact same slot that The Equalizer had last year. (The site also correctly notes that The Equalizer should be called The Sequelizer, but something tells us Sony's probably not going to take them up on that suggestion.) No other films are currently scheduled for that weekend, although Ninjago opens the week before and The Jungle Book: Origins the week after.
Sony started prepping The Equalizer 2 way back in February 2014, setting Richard Wenk to write the script. The studio's optimism proved well founded when the thriller finally opened seven months later, as The Equalizer raked in $192 million worldwide on a $55 million budget. Still, they waited until this past spring to offically announce a sequel.
The first The Equalizer was a bloody R-rated thriller elevated by Washington's charisma and director Antoine Fuqua's cool style. Inspired by the 1980s CBS drama of the same title, it centered on a retired black ops agent (Washington) living among people who have no clue about his dark past. But when the Russian mob threatens a young friend of his (played by Chloë Grace Moretz), McCall uses his old skills to help save her.
Washington is set to return, making The Equalizer 2 the first sequel in his four-decade career. Less clear is whether any of his co-stars from the first film (which included Moretz, Marton Csokas, Bill Pullman, and Melissa Leo) will join him. Nor do we know whether Fuqua will direct, or who might replace him if he doesn't.