Disney's First 'Zootopia' Teaser Trailer Explains What 'Zootopia' Is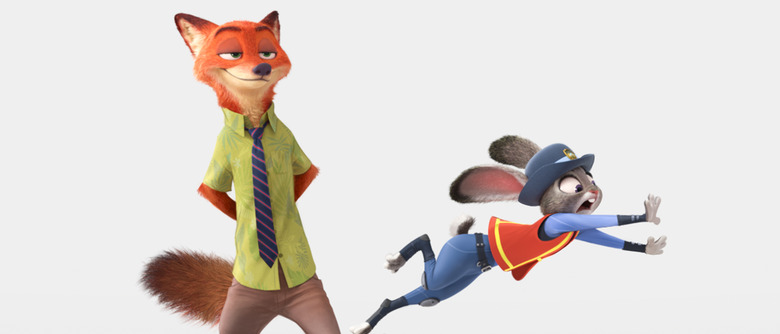 The premise of Disney Animation's Zootopia isn't terribly hard to follow. It's set in a sprawling metropolis built, run, and populated by non-human animals. But just in case you're still confused, the first Zootopia teaser trailer lays it all out for you in winning, adorable fashion. Watch it after the jump.
Disney unleashed the first Zootopia teaser trailer on YouTube.
After years of playing second fiddle to Pixar in the hearts of moviegoers, Disney seems to be at the top of its game again. It's currently in the middle of a winning streak that includes Tangled, Wreck-It Ralph, Frozen, and Big Hero 6. While the first Zootopia teaser trailer doesn't offer a whole lot to go on, it's engaging enough that we're hopeful Zootopia will be another winner.
Ginnifer Goodwin and Jason Bateman voice the leads of Zootopia. She's an upbeat bunny new to the police force; he's the slippery scam artist fox she partners with to crack a case. Rich Moore and Byron Howard directed, and Jared Bush co-directed. Zootopia opens March 4, 2016.
The modern mammal metropolis of Zootopia is a city like no other. Comprised of habitat neighborhoods like ritzy Sahara Square and frigid Tundratown, it's a melting pot where animals from every environment live together—a place where no matter what you are, from the biggest elephant to the smallest shrew, you can be anything. But when optimistic Officer Judy Hopps (voice of Ginnifer Goodwin) arrives, she discovers that being the first bunny on a police force of big, tough animals isn't so easy. Determined to prove herself, she jumps at the opportunity to crack a case, even if it means partnering with a fast-talking, scam-artist fox, Nick Wilde (voice of Jason Bateman), to solve the mystery. Walt Disney Animation Studios' "Zootopia," a comedy-adventure directed by Byron Howard ("Tangled," "Bolt") and Rich Moore ("Wreck-It Ralph," "The Simpsons") and co-directed by Jared Bush ("Penn Zero: Part-Time Hero"), opens in theaters on March 4, 2016.