'Orange Is The New Black' Season 3 Trailer: "This Place Is Going To Hell"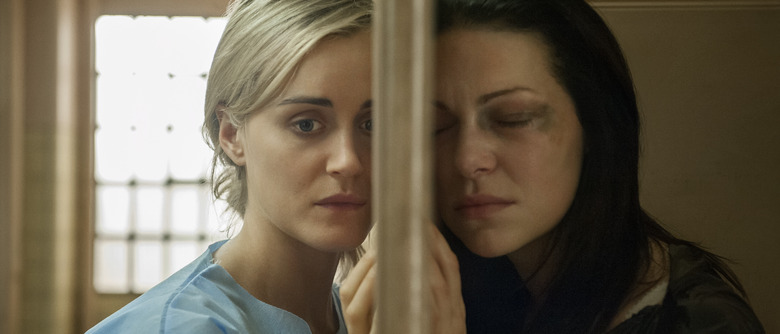 Coming in just under the wire, Netflix has released one last trailer for Orange Is the New Black Season 3. The new promo doesn't reveal a whole lot about the plot of the new season, but it suggests we're in for the same mix of funny and heartbreaking that made the first two seasons so irresistible. Watch the Orange Is the New Black Season 3 trailer after the jump. 
Netflix unveiled the Orange Is the New Black Season 3 trailer on YouTube.
The use of a classic hymn is no throwaway detail. The trailer description from Netflix suggests we're in for a reckoning of sorts in the coming season:
The women of Litchfield unapologetically return for the third coming. With a crisis of faith and their beliefs and loyalties being tested, each character must decide what and who to believe in.
Specifics are hard to come by right now, but one exchange in the trailer seemed to illustrate the general idea. "Maybe the universe is making me a better person," Piper (Taylor Schilling) muses about her time in prison. "Maybe this is exactly where I'm supposed to be right now."
Which sounds kind of nice and uplifting, until Alex (Laura Prepon) bursts Piper's bubble. "Whatever you need to tell yourself to get by," she scoffs. They're still in prison, after all, and prison really sucks.
Elsewhere, Big Boo (Lea DeLaria) and Pennsatucky (Taryn Manning) look like they're about to embark on the unlikeliest buddy comedy pairing since Jonah and Richard on Veep. And Black Cindy (Adrienne C. Moore) continues to prove why she's one of the show's best scene-stealers.
But the trailer hits on some more serious material as well. It seems Caputo's (Nick Sandow) successful ploy to take over Fig's (Alysia Renier) job as assistant warden has backfired, as rumors are running rampant that the camp is shutting down. And I don't know what's going on with Poussey (Samira Wiley) and Suzanne (Uzo Aduba), but it looks like they've got a lot to work through after Vee's evil doings in Season 2.
Orange Is the New Black Season 3 hits Netflix June 12 at 12:01 AM Pacific.