'Man From U.N.C.L.E.' Trailer #2: Henry Cavill And Armie Hammer Buddy Up To Save The World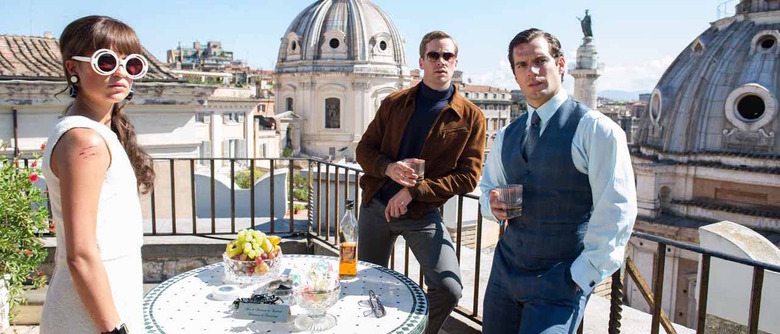 It's really a shame that Man of Steel didn't give Henry Cavill much room to show off his charm, because as the new trailer for Guy Ritchie's The Man From U.N.C.L.E. shows, he's got it in spades. The big-screen remake of the '60s series stars Cavill as CIA agent Napoleon Solo, who's forced to team with KGB agent Illya Kuryakin (Armie Hammer) to, I don't know, save the world or something.
The specifics of the plot aren't important. The key thing is that it offers Cavill and Hammer an excuse to engage in snarky banter, wear sharp suits, drive cool cars, and blow up shiny things. Alicia Vikander, Elizabeth Debicki, and Hugh Grant also star. Watch the new The Man From UNCLE trailer, and check out a new poster, after the jump.
Warner Bros. unveiled the new The Man From UNCLE trailer. Scroll to the bottom of the post for the new poster, which is an eye-searing combination of turquoise and tomato-red. At least it's not the usual steel blue and fiery orange, I guess?
The Man From U.N.C.L.E. arrives in theaters August 14, 2015.
Henry Cavill ("Man of Steel") stars as Napoleon Solo opposite Armie Hammer ("The Social Network") as Illya Kuryakin in director Guy Ritchie's "The Man from U.N.C.L.E.," a fresh take on the hugely popular 1960s television series.
Set against the backdrop of the early 1960s, at the height of the Cold War, "The Man from U.N.C.L.E." centers on CIA agent Solo and KGB agent Kuryakin. Forced to put aside longstanding hostilities, the two team up on a joint mission to stop a mysterious international criminal organization, which is bent on destabilizing the fragile balance of power through the proliferation of nuclear weapons and technology. The duo's only lead is the daughter of a vanished German scientist, who is the key to infiltrating the criminal organization, and they must race against time to find him and prevent a worldwide catastrophe.