'The Martian' Release Date Moves Up; 'Victor Frankenstein' Pushed Back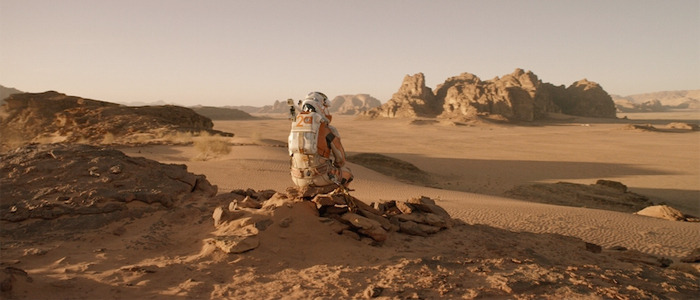 If that fantastic first trailer got you all pumped up for The Martian, you're in luck. 20th Century Fox has moved the Ridley Scott space thriller up two months. Meanwhile, Victor Frankenstein — the horror-drama retelling starring Daniel Radcliffe and James McAvoy — has been pushed back. Get Victor Frankenstein and The Martian release date details after the jump. 
Deadline reports the two films have switched dates. The Martian, previously scheduled for Thanksgiving weekend (November 25), will now open October 2. The new date pits it against Robert Zemeckis' The Walk, the action sequel London Has Fallen, and the Bradley Cooper comedy Adam Jones. The trade notes The Martian now has the same slot that the similarly themed Gravity rode to critical and commercial success in 2013.Matt Damon leads the space survival drama as Mark Watney, an astronaut who's presumed dead and left on Mars after a dust storm. When NASA realizes he's still alive, his crewmates embark on a dangerous mission to rescue him. The Martian's star-studded cast additionally includes Jessica Chastain, Kristen Wiig, Jeff Daniels, Michael Peña, Kate Mara, Sean Bean, Sebastian Stan, Donald Glover, Aksel Hennie, and Chiwetel Ejiofor.
Meanwhile, Victor Frankenstein is moving from October 2 to November 25, where it'll face off against Pixar's The Good Dinosaur, the Rocky spinoff Creed, Jeff Nichols' Midnight Special, Jonathan Levine's still-untitled Christmas movie, and (perhaps most intimidating of all) the second weekend of The Hunger Games: Mockingjay – Part 2. This is the third move for the film, which was originally slated for fall 2014, then early 2015.
Directed by Paul McGuigan, Victor Frankenstein retells the classic Mary Shelley tale from the perspective of troubled lab assistant Igor (Radcliffe). It chronicles his friendship with Victor von Frankenstein (McAvoy), and their path to creating an iconic monster that could destroy them both. Jessica Brown Findlay, Andrew Scott, and Mark Gatiss also star.