How Would 'Inside Out' Filmmakers Like To See The Film As A Disney Ride?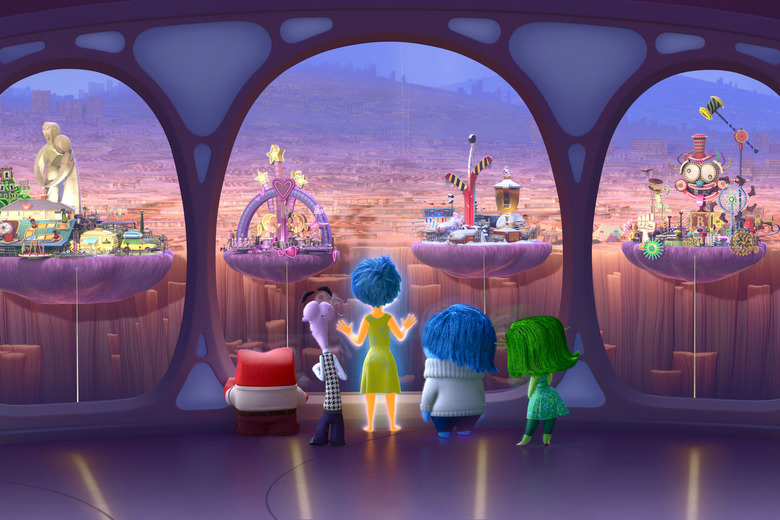 The only thing that takes longer to make than a Pixar movie is the subsequent ride at Disney World. In the past, rides have been developed in tandem with films. These days, the people who create the rides – Imagineers – wait to see if a film becomes important or successful enough before plans move ahead for a permanent place in the theme park. But that doesn't stop the filmmakers from thinking about it.
According to Inside Out director Pete Docter and producer Jonas Rivera, 45 minutes after first pitching their film, they were on the phone with Imagineering telling them about the idea. While there's nothing yet confirmed about an Inside Out presence in the parks, the duo told us about their dream integration for Inside Out into Disney parks, which includes an idea that was cut out of the film. Read the Inside Out theme park talk below.
Here's what Rivera told us about his dream Inside Out integration at Walt Disney World:
My pitch is that I think this could be a pavilion at Epcot. You've got The Sea. Nemo's there. So in The Land there's a section called Imagination that's still there and it's still cool. [The character] Figment and all that. I loved that as a kid. And I thought, well, 'We have the mind now.' And we've sort of put visuals to it. And the Train of Thought. It just feels like a show with dreams. It feels like it fits.
Then Docter jumped in:
Docter: I think it's gotta be the Stream of Consciousness ride. And you travel down it.
Rivera: That was an idea we didn't put in the film. But yeah. I think our film's fit nicely in the parks with Cars Land and Monsters [Inc.] and all that. We're always so proud of that. I think we're both in this job because we went to Disneyland when we were kids.
As Rivera mentions, Epcot does have a "Journey Into Imagination" ride in The Land section of the park. That's also where there's a small Inside Out "Emotion Garden," which is a bunch of plants that line up with different emotions. But, if Inside Out becomes a massive hit and something like this shows up in the park in a decade, remember reading this article.
Inside Out opens June 19. We'll have more from our interview with Docter and Rivera soon.