'Hyperion' Becomes Syfy Event Series Produced By Bradley Cooper, Graham King And Todd Phillips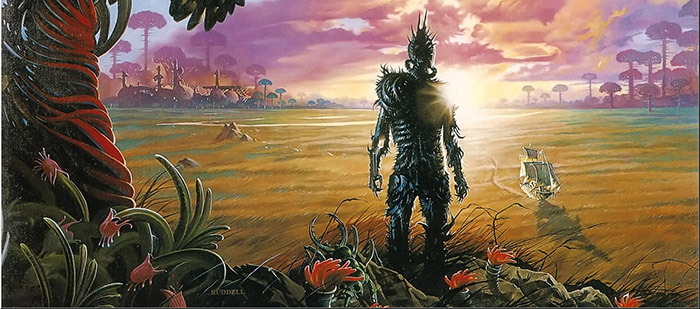 The Dan Simmons novel Hyperion, along with its companion/second-half novel The Fall of Hyperion, is one of the great modern works of science fiction. With a story of seven characters on a pilgrimage to enter a time-warped tomb, the story adopts the structure of the Canterbury Tales to weave together disparate genres, the influence of poetry by John Keats, and far-flung science fiction concepts.
Bradley Cooper has wanted to adapt Hyperion for many years; some time ago he even lobbied to get the gig writing the script. Now he, along with Graham King and Todd Phillips, is producing a Hyperion TV series for Syfy.
THR reports that Syfy is working with the three producers to adapt the novel(s) into event series form, with Itamar Moses (Boardwalk Empire) writing and acting as co-exec producer.
Bradley Cooper said in a statement,
It is an absolute honor to enter into the world created by Dan Simmons that is arguably one of the greatest works of science fiction, and help realize it for television audiences.
Syfy has been more ambitious of late in developing TV series that engage on a deep level with science fiction, rather than just adopting the superficial trappings of sci-fi. Hyperion could benefit from that treatment; the story is so epic in scope that adapting it into one or two movies always seemed like a woefully insufficient approach.
The TV series format may allow enough breathing room so that each of the pilgrims' stories can be told in detail while also building the story's universe and allowing for a visual realization of the incredible end-game.