'Pitch Perfect 3' Moves Ahead With Kay Cannon Returning To Write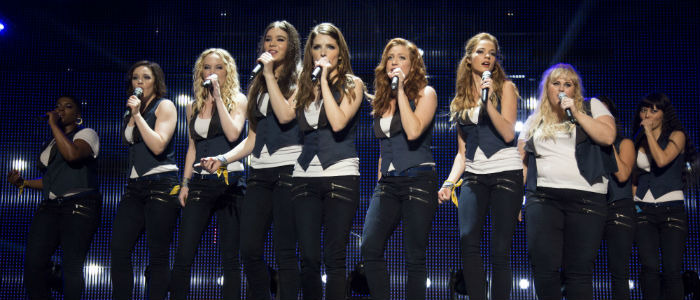 Prepare to get pitch slapped, again. Universal is rolling ahead with Pitch Perfect 3, luring back Pitch Perfect and Pitch Perfect 2 writer Kay Cannon to script the threequel. Get all the Pitch Perfect 3 details after the jump. 
THR reports Cannon is currently in negotiations with Universal and Gold Circle to return for the next installment. Both were inspired by Mickey Rapkin's nonfiction book about the collegiate a cappella scene. Cannon's other credits include the TV shows 30 Rock, New Girl, and Cristela.
Still uncertain is who'll direct. Jason Moore directed the original Pitch Perfect. Elizabeth Banks, who produced and co-starred in the first movie, directed the second.
Getting the Bellas themselves back for a third round could prove tricky as well. While Hailee Steinfeld, who had a major role in Pitch Perfect 2, is locked in, neither Anna Kendrick nor Rebel Wilson, who led the first two films, is contracted for a threequel. (For what it's worth, it sounds like Wilson, at least, wants to come back.)
The trade's sources say Kendrick and Wilson made $2 million each for Pitch Perfect 2. That was a huge bump from the first movie, for which Kendrick pulled a low-six-figure paycheck and Wilson earned less than $100,000. They should be able to command even more for Pitch Perfect 3.
Narratively, it would make sense for Pitch Perfect 3 to shift its focus to Steinfeld's Emily, who is (spoiler alert) the only Barden Bella still on campus. All of the other Bellas have graduated and moved on by the end of Pitch Perfect 2. However, Kendrick and Wilson are still the big draws.
Pitch Perfect 2 figured out a few ways to retain the same cast. One character (Chloe, played by Brittany Snow) became a multi-year senior, and another (Bumper, played by Adam DeVine) found a job on campus. We'll have to wait and see what narrative trickery they employ to reunite the Bellas for Pitch Perfect 3.
Both Pitch Perfect movies have been big hits. The first one made $115 million on a $17 million budget, and the second one has grossed $250 million so far.