First Look At Disney Animations's Next Film: 'Zootopia'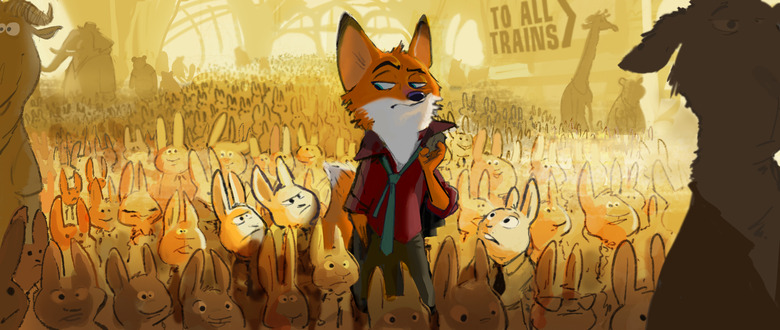 Much like Pixar took off last year, Disney Animation is taking off this year. After a nice string of hits including the all-time animated champion, Frozen, Disney Animation isn't releasing a film in 2015 but will be back in 2016. Their next movie is called Zootopia, a film they revealed at the D23 Expo back in 2013 set in a massive animal metropolis. It'll be released on March 4, 2016, features the voices of Jason Bateman and Ginnifer Goodwin and though we've seen some concept art (like above) the first official look at the film's main characters is now online. Check it out below.
USA Today has your first look at Zootopia.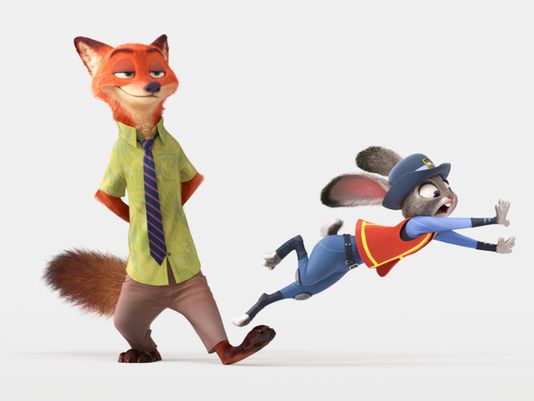 That's Nick Wilde (Bateman), a con artist fox and Judy Hopps (Goodwin) a rookie rabbit cop. They're the two main characters in a film that's kind of 48 Hours set in the world of Disney's Robin Hood. Basically it's the story of two totally different characters, with different ideals and from different walks of life, who become friends in a massive animal city.
Director Byron Howard (Tangled) has now been joined by Rich Moore (Wreck-It Ralph) as do-director on the film.
Here's the official description of Zootopia. For more on the film, click here:
In the animal city of Zootopia, a fast-talking fox who's trying to make it big goes on the run when he's framed for a crime he didn't commit. Zootopia's top cop, a self-righteous rabbit, is hot on his tail, but when both become targets of a conspiracy, they're forced to team up and discover even natural enemies can become best friends.