Jon Bernthal Is The Punisher For 'Daredevil' Season 2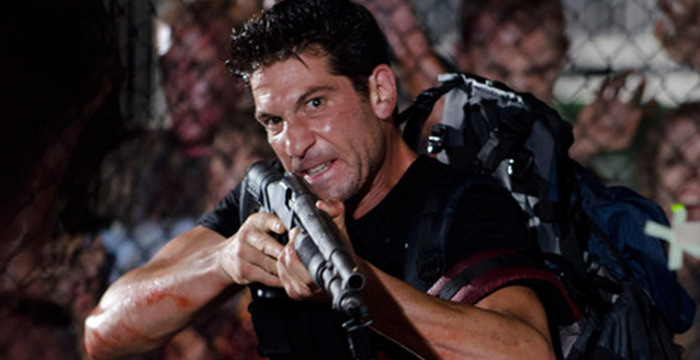 There's a new Punisher in town. The fourth actor to play the role on screen, this time on television rather than in film, is The Walking Dead's Jon Bernthal. Daredevil season two will feature Bernthal as Frank Castle, whose black-clad alter ego is better known as Marvel's gun-toting, gangster-blasting anti-hero. We'll see Bernthal as Castle when the show returns to Netflix in 2016.
THR reports the casting, and notes that there's some question as to whether he'll be a regular or recurring role. The report does say that he is expected to have "a big presence" in the show's second season.
Whatever prominence Bernthal ends up having on the show, he's a perfect choice for the role. He's got the physicality and intensity needed to sell the character's extreme tendencies, and has an incredible face that is ideal for the role. Looking at him, you'd almost think he's been the basis for several versions of the character from various artists over the years.
Of this particular version of the character, this report says, "On Daredevil, the Punisher is a vigilante who aims to clean up New York's Hell's Kitchen by any means necessary, no matter how lethal the results."
Jeph Loeb, Marvel's Head of Television, said in a statement,
Jon Bernthal brings an unmatched intensity to every role he takes on, with a potent blend of power, motivation and vulnerability that will connect with audiences. Castle's appearance will bring dramatic changes to the world of Matt Murdock and nothing will be the same.
Doug Petrie and Marco Ramirez take over as as showrunners for Daredevil season 2, and Charlie Cox, Elden Henson, Deborah Ann Woll and Vincent D'Onofrio will all return to their roles on the show.
Bernthal seems happy that people like this casting news:
Thanks for the love yall. Let's get it. Honored. pic.twitter.com/ZQ4xNfocHH

— Jon Bernthal (@jonnybernthal) June 9, 2015