Jason Alexander Explains Why George Costanza's Fiancée Susan Was Killed On 'Seinfeld'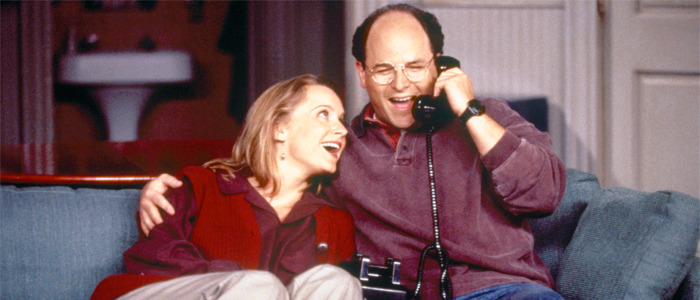 Even though the series finale of Seinfeld was considered disappointing by some, you can't deny the series is one of the best comedies that television has seen in the past 25 years. One of the more bold moments from the show's run was the death of Susan Biddle Ross, the on-and-off girlfriend and eventual fiancée of Jason Alexander's character George Costanza.
Beyond being a surprising story twist, however, there was never really any explanation as to why Susan (played by Heidi Swedberg) was killed off. But Alexander recently opened up about why Susan was killed, and it didn't sound very nice at first. But then he eventually clarified after the story went viral.
Find out why Susan was killed on Seinfeld after the jump!
Here's what Alexander told Howard Stern (via Uproxx) on his morning radio show:
"After every episode we'd all go out — not the guest cast — but the four of us and Larry would go out and have a bite to eat and we would just bitch about everything. And I kept saying 'I'm going out of my mind, you guys. You're killing me. I can't understand how to play off of this girl. I'm sure that this stuff is not working — it can't be!' And they're going 'It works great, you don't know what you're talking about.' I was the only actor doing scenes with her ... and finally they do an episode where Elaine and Jerry have a lot of material with her, and they do the week and then we get to the restaurant afterwards and they go 'You know what? It's fucking impossible. It's impossible!' And Julia actually said 'I know, don't you just wanna kill her?' And Larry went 'Kabang!'"
Ouch, that sounds rough. However, maybe sensing that this quote, even in context, sounded rather mean to Swedberg, Alexander took to Twitter in order to clarify what he meant with his comments, pointing out the the problem was on his end. Basically, he was unsure of how to play off of her, but that wasn't really Swedberg's fault. Alexander says:
"...I just felt I was on uncertain ground in how to play off that character and I was always concerned that it wasn't working. And that's what I would voice concern about. But because the scenes were playing the way they were, the relationship with George and Susan sustained a whole season. People clearly liked the interplay even though I believed I was "off".
Larry and Jerry were not sure how that relationship would end. They didn't really want George married but all the alternatives seemed predictable. They were always looking for an inventive end to the engagement. So when the comment was made about "killing", no one was talking about the actress – they were talking about the character. And that made a creative lightbulb go off apparently.
But in telling this story, it sounds like we are putting a heavy burden on Heidi. I, personally, am not. Heidi would always ask if there was anything in the scenes she could do or if I had any thoughts. She was generous and gracious and I am so mad at myself for retelling this story in any way that would diminish her. If I had had more maturity or more security in my own work, I surely would have taken her query and possibly tried to adjust the scenes with her. She surely offered. But, I didn't have that maturity or security..."
There's more to the extensive update on Twitter from Alexander's entire TwitLonger post right here. This could just as easily be damage control for an off the cuff remark from Alexander, but either way, it's an interesting behind the scenes story. And this kind of anecdote just goes to show you how Seinfeld never really had any direction or point, which is a big part of what made it great. The show is infamously about nothing, and it's fascinating to hear how elements like this developed and eventually crumbled.