A 'Boondock Saints' Prequel TV Series Is In The Works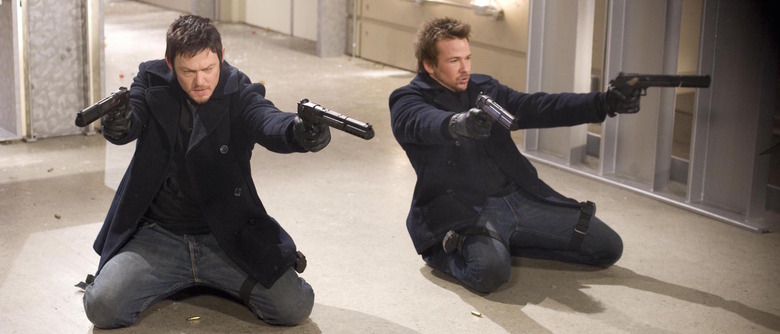 After years of attempts to get another Boondock Saints sequel off the ground, writer-director Troy Duffy is trying a different tactic to bring back the MacManus twins. Duffy is set to write and direct a TV prequel series based on his cult hit films. Stars Norman Reedus and Sean Patrick Flanery won't star, but may serve as co-executive producers.
Get all the details on the Boondock Saints TV prequel series after the jump. 
Deadline reports IM Global Television has acquired the TV rights to The Boondock Saints. Duffy, who wrote and directed both 1999's The Boondock Saints and 2009's The Boondock Saints II: All Saints Day has written and will direct the first episode. He's already compiled a series bible, which chronicles the MacManus boys' origins as Irish immigrants in South Boston.
Duffy will additionally executive produce with Don Carmody, Lloyd Segan, and D. Matt Geller, all of whom had a hand in the original films. Reedus and Flanery are in early talks to join the project as co-executive producers. The search for a showrunner is already in progress.
Released in 1999, the original Boondock Saints was a critically panned commercial failure until word of mouth made it a cult hit on home video. The film became popular enough to beget a sequel in 2009... which didn't really do any better at the box office or among critics. Still, Boondock Saints has a devoted following, and Duffy has long worked to get a third installment off the ground.
As of last fall the word was Boondock Saints III had a title and a story, but we haven't heard much about forward movement since then. Interestingly, Duffy revealed at the time that Boondock Saints 3: Legion would include flashbacks to the brothers' "very first crime." Now it seems that backstory is being repurposed for the TV show.
"For years I've been obsessed with telling a real origin story with Boondock, and IM Global TV has stepped up," said Duffy. "Television is the perfect medium to explore these controversial characters on a much deeper level and to bring Boondock Saints to a whole new audience."
The Boondock Saints TV series does not yet have a home, but producers are said to be aiming for a straight-to-series order.