Latest 'Scream' TV Trailer Shows The New Masked Killer In Action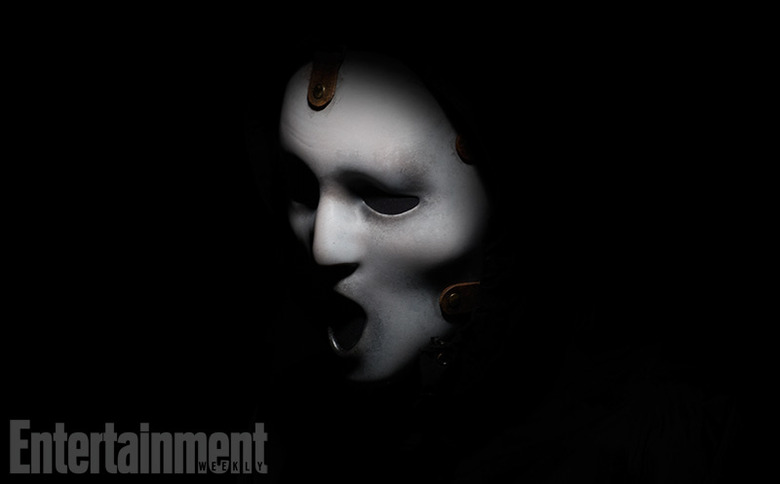 You got your first look at Ghostface's replacement last week; now see the new masked killer in action. MTV has unveiled a new trailer for Scream, based on the hit film franchise. The iconic mask has changed, and the kids are chatting on iPhones instead of landlines, but the meta sense of humor remains. Watch the latest Scream trailer after the jump. 
MTV unveiled the new Scream trailer.
"By the time the first body is found, it's only a matter of time before the bloodbath commences," one character comments. But the latest Scream trailer opens with a literal bloodbath. Bella Thorne finds her Jacuzzi soak interrupted by an obnoxious splash, which turns out to be a severed head.
You'd think that'd be enough to warn the kids that something terrible is afoot, but apparently not. After another character muses, "Maybe we should be afraid. Bunch of drunk teenagers, a party by the lake where your homegrown killer died," his friend responds, "You have a dark mind." It's like she doesn't even know what genre show she's starring in.
Meanwhile, the new masked killer lurks in the shadows, silently tormenting our photogenic teen protagonists. It seems like classic Scream fans are still on the fence about the new masked, but maybe we'll warm up to him/her once the killing really gets underway.
Scream premieres June 30, 2015 on MTV. Willa Fitzgerald, Bex Taylor-Klaus, Amadeus Serafini, Carlson Young, Connor Weil, and John Karna star.
Everyone has secrets. Everyone tells lies. Everyone is fair game. The new series is based on the Dimension feature of the same name. The series kicks off after a cyber-bullying incident results in a brutal murder, with the shocking violence stirring up memories of a killing spree from the past that has haunted some, intrigued others and maybe just inspired a new killer. It centers on a group of new teens — with two old friends struggling to reconnect at its heart — who become lovers, enemies, suspects, targets and victims of a killer who's out for blood.