'The Martian' Trailer: Ridley Scott Sends Matt Damon Into Outer Space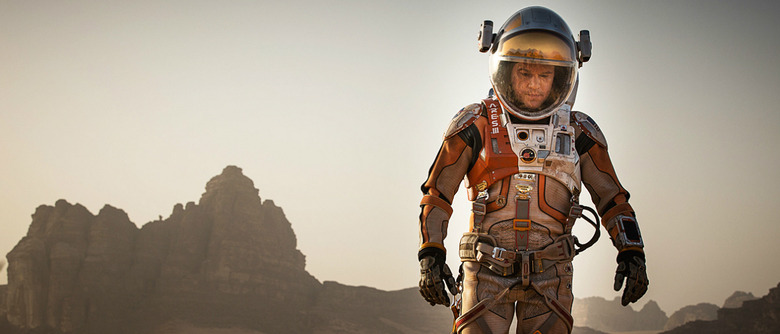 We've gotten a couple of intriguing peeks at Ridley Scott's The Martian in recent days, and now Fox has unveiled the first real trailer for us to enjoy.
Based on the novel by Andy Weir, The Martian stars Matt Damon as an astronaut who's stranded on Mars after a dust storm sends the rest of his crew bolting. As Mark struggles to survive, his crewmates and NASA hatch a plan to rescue him. Watch the first The Martian trailer after the jump.
Here's the first The Martian trailer from Fox.
The basic premise brings Alfonso Cuarón's Gravity to mind, but as you can see from the trailer, The Martian is a different beast. For one thing, it's got way more people running around.
Jessica Chastain, Kate Mara, Michael Peña, Sebastian Stan, and Aksel Hennie make up the crew of the Hermes. Sean Bean, Mackenzie Davis, Donald Glover, Kristen Wiig, Chiwetel Ejiofor, Jeff Daniels play some of those helping the effort from Earth. Keep track of them all with this handy chart from producer Simon Kinberg:
Meet the outofthisworld cast of #TheMartian pic.twitter.com/tQtU0Dmq2K

— Simon Kinberg (@Kinberg) June 7, 2015
The Martian opens November 25, 2015.
During a manned mission to Mars, Astronaut Mark Watney (Matt Damon) is presumed dead after a fierce storm and left behind by his crew. But Watney has survived and finds himself stranded and alone on the hostile planet. With only meager supplies, he must draw upon his ingenuity, wit and spirit to subsist and find a way to signal to Earth that he is alive. Millions of miles away, NASA and a team of international scientists work tirelessly to bring "the Martian" home, while his crewmates concurrently plot a daring, if not impossible, rescue mission. As these stories of incredible bravery unfold, the world comes together to root for Watney's safe return. Based on a best-selling novel, and helmed by master director Ridley Scott, THE MARTIAN features a star studded cast that includes Jessica Chastain, Kristen Wiig, Kate Mara, Michael Pena, Jeff Daniels, Chiwetel Ejiofor, and Donald Glover.