Indominus Rex Is Born In Best 'Jurassic World' Trailer Yet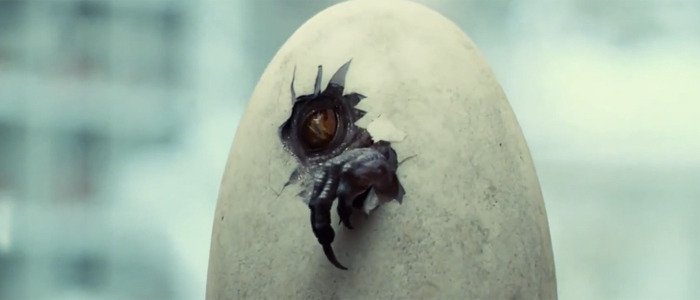 While I'm undoubtedly anticipating the release of Jurassic World next week, I'd be lying if I said I wasn't cautiously optimistic. From what we've seen in the footage so far, there's a lot of dinosaur spectacle and action, which is the easiest way to market the film to a culture that has always been obsessed with dinosaurs. However, something just hasn't felt right.
But a new international Jurassic World trailer has just landed online, and it's the best one yet. With the exception of a faint echo of Bryce Dallas Howard yelling "Run!" and one quick line at the end, there's absolutely no dialogue. It's ominous and haunting, even if it does still show a little too much of the Indominus Rex wreaking havoc on the park.
Watch the international Jurassic World trailer after the jump!
Here's the trailer from CBR Trailers:
This should have been the final domestic trailer for Jurassic World. It's edited together so well, takes out some of the cheesier lines and moments (which hopefully work better in the movie), and actually has the level of suspense and intrigue that the original Jurassic Park had. The Indominus Rex actually feels like a scary force to be reckoned with this time, even though that roar we hear at the end likely belongs to the Tyrannosaurus Rex (unless they have a similar roar). It's far better than the more recent Jurassic World trailer which just shows too much.
But if you're one of those who wants to see as much as possible, this featurette also unloads plenty of new footage. Here's hoping Jurassic World packs a punch next week. If you're on the fence, maybe some buzz from the world premiere last weekend will help.
Jurassic World stars Chris Pratt, Bryce Dallas Howard, Irrfan Khan, Vincent D'Onofrio, Jake Johnson, Omar Sy, Nick Robinson, Ty Simpkins, B.D. Wong and Judy Greer. Here's the official synopsis, which really doesn't tell you anything other than names:
Steven Spielberg returns to executive produce the long-awaited next installment of his groundbreaking Jurassic Park series, Jurassic World.  Colin Trevorrow (Safety Not Guaranteed) directs the epic action-adventure based on characters created by Michael Crichton.  The screenplay is by Rick Jaffa & Amanda Silver (Rise of the Planet of the Apes) and Derek Connolly & Trevorrow, and the story is by Rick Jaffa & Amanda Silver.  Frank Marshall and Patrick Crowley join the team as producers.
Jurassic World hits theaters on June 12th next week.