'Fast And Furious Supercharged' Preview: Learn More About The New Universal Experience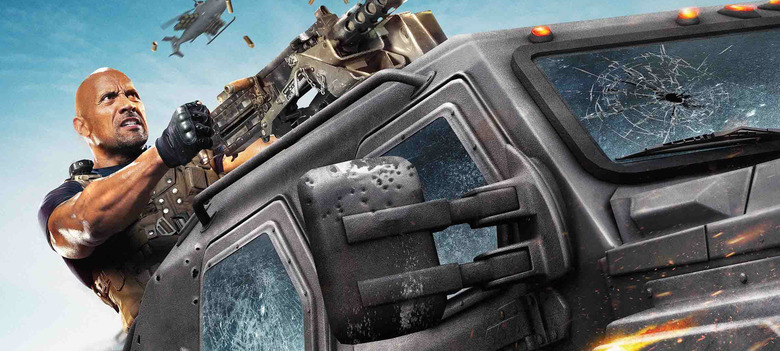 Later this month, Universal Studios Hollywood is going to launch a one of a kind experience called Fast and Furious Supercharged. Yes, it's a ride inside a theme park based on the Fast and Furious franchise so you know there will be speed and mayhem. However, beyond that, Supercharged is very different from what you're expecting. It's a multi-stage story told through out the entire, world famous, Universal Studios Studio Tour tram ride culminating in a 360 degree experience that'll have you racing through the streets of Los Angeles.
Vin Diesel, Dwayne Johnson, Michelle Rodriguez, Tyrese Gibson and Luke Evans all filmed footage for the ride – which opens June 25 and /Film was lucky enough to get a behind the scenes tour. Below we'll give you an idea of the craziness behind, and during, Fast and Furious Supercharged.
Basically, the story of Fast and Furious Supercharged – the ride – is this. You're a normal park attendee at Universal Studios Hollywood on the tram ride. While on the ride, you'll find out that someone on the tram is witness that has to be protected from Owen Shaw (Evans) and Agent Hobbs (Johnson) has recruited his friends Dom (Diesel) and his family to protect the witness. There are multiple stages to the story along the tram ride, with interactions, props, videos and more, all leading up to a huge building where the tram will have a big time adventure.
The story behind the ride began three years prior with ground up construction backlot at Universal specifically for this ride (replacing the former curse of the Mummy's tomb). Inside, there are multiple rooms each with a different experience: Roman's garage, a back garage party and the main attraction. In the first two, a lighting trick referred to as "Pepper's ghost" will make it seem like the characters are in the room with you. Then you enter the main room.
Inside the finale room of the ride you'll be totally enclosed in the world's largest 3D screen. It's 400 feet around with footage coming from 18 4K projectors. Forty speakers are spread across the room as well as effects walls that will duplicated several physical effects, like water and wind. Though the tram will be stationary, hydraulics below will shake it around and winds will make it feel like you're going 80 mph for the bulk of the ride, and then 120 mph when Dom and the posse hit the NOS.
The ride itself is so big, depending on where you sit on the tram, you'll likely get a new experience every time as so much is going on in every single direction, there's always something new to see.
We'll have more on Fast and Furious Supercharged as we get closer to the ride's grand opening on June 25.